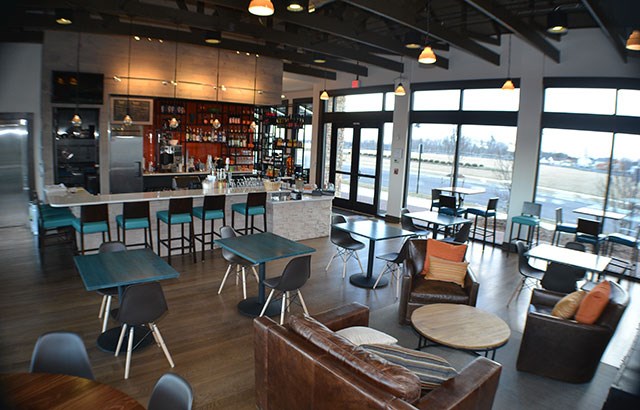 Embrey House Will Open Doors To Innovative Services And Amenities
NORTH STAFFORD, Va., Jan. 30, 2014 /PRNewswire/ -- Embrey Mill, an 831-acre master-planned community in North Stafford,  Virginia, will open the doors of Embrey House, its highly anticipated  community hub, on February 7th. In  addition to an immersive information center, Embrey  House will provide an on-site retail element most communities lack,  including a full-service cafe and a planned concierge program.
An exclusive partnership with local favorite Before 'n' After Cafe provides an easy dining  option on-site, as well as call-ahead service for quick pick-up by busy  commuters. The Before 'n' After Cafe menu expands upon the offerings of its  sister location in Stafford, boasts an outdoor  summer kitchen and patio, and offers poolside food service, distinguishing it  far beyond anything else nearby. Winter hours will be 11  a.m. – 5 p.m.   M – F, with  expanded hours on weekends and during the summer (exact schedule TBD).
Alongside these services, Embrey House will be  the main source of information about the community and its homes, offering  experiential technology and trained staff to help prospective buyers learn about  Embrey Mill. The all-encompassing amenity complex also features a fitness center  overlooking an Olympic beach entry swimming pool and adjoining children's pool.  Kids have plenty of play options like a junior-sized basketball hoop, four  square and hopscotch, as well as two experiential play installations.
 The strong stone facade of Embrey House draws inspiration from the region's  role in national history. Its design references the nearby Towson House, an  historic home adjacent to the quarries that supplied the sandstone used to build  the U.S. Capitol. The Towson House was later owned by the Embrey family.
 After listening to the market, Embrey Mill plans to integrate on-site  lifestyle services that maximize residents' time at home, including a concierge  program. "Our consumer research revealed the huge time challenges people living  and working on the I-95 corridor face," said Tracy  Graves, Vice President of Operations for Embrey Mill. "We have envisioned  and are finalizing plans for a unique concierge service for our residents and  will have more information to share as our community continues to grow."
Embrey Mill is owned in a joint venture between NORTH AMERICA SEKISUI HOUSE, LLC (NASH), the US  business unit and full subsidiary of SEKISUI HOUSE, LTD., Japan's largest homebuilder and leading diversified developer, and AMERICAN NEWLAND  COMMUNITIES, LLC, whose development business, Newland Communities, is the  master developer of the community. It is one of more than 30 assets the  NASH-Newland partnership manages together in 11 states across the US.
For more information about Embrey Mill, please visit http://www.EmbreyMill.com and follow us on facebook.com/EmbreyMill and twitter.com/EmbreyMill.
About Embrey Mill
Embrey Mill is a new home community set in the rolling hills of historic  North Stafford, Virginia. The 831-acre  community is planned to have more than 1,800 homes, and combines 285 acres of  meaningful open space and distinct, intimate neighborhoods to encourage  community interaction. Embrey Mill amenities include Before 'n' After Cafe, a  pool and fitness center, four unique neighborhood parks, with several more  planned, all designed to be convenient and walkable to help families and  neighbors make the most of their valuable time at home. Embrey Mill is developed  by Newland Communities, the largest private developer of planned residential and  mixed-use communities in the United States.  Learn more about Embrey Mill by visiting us at http://www.EmbreyMill.com following us on Twitter and Facebook.
About NEWLAND:
Newland is a diversified real estate company leveraging a national platform  and over 40 years of experience to perform challenging and diverse development,  investment, management, and advisory services across a wide range of real  estate. The company's mixed-use development business, Newland Communities,  actively owns, operates and develops premier residential master-planned,  commercial, retail, and urban mixed-use real estate across the U.S.  Headquartered in San Diego, Calif.,  Newland and its affiliated companies have completed, or have underway, more  than 140 diverse real estate developments, more than 20 million square feet of  commercial and retail space, and 175,000 residential units in 14 states. www.newlandcommunities.com
About NORTH AMERICA SEKISUI HOUSE, LLC  (NASH):
NASH was established in 2010 as the U.S. business operations unit and a full  subsidiary of SEKISUI HOUSE, LTD., Japan's largest homebuilder and a leading diversified developer since 1960. SEKISUI  HOUSE, LTD. has built more than two million houses to date and expanded its  operations to Australia, China,  Singapore, and the U.S.  NASH establishes  joint ventures to build innovative and sustainability-conscious master planned  communities across the US. NASH is headquartered in Arlington, Virginia.  http://nashcommunities.com/. The Embrey Mill  development joint venture is one of NASH's consolidated subsidiaries in the  US.
SEKISUI HOUSE is headquartered in Osaka,  Japan. http://www.sekisuihouse.co.jp/english/index.html.