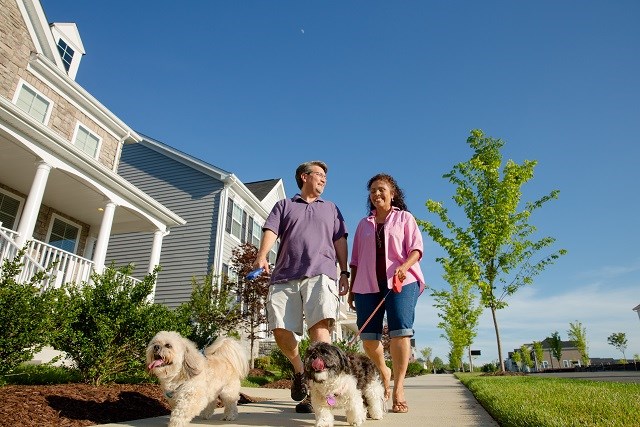 10 Reasons to Make the Move to Embrey Mill
Set on 285 acres of refreshing open space in the rolling hills of historic North Stafford, Virginia—Embrey Mill has continued to prove its title as the #1 Family Community in Stafford County. The community here at Embrey Mill is truly remarkable, with a rich historical heritage and sense of place. In short—Embrey Mill is a community focused on creating a simpler, better way to live. From our ideal location just off I-95, to our stunning yet sensible new home designs and wide range of top-of-the-line amenities, it's no wonder so many families have continued to choose to move to Embrey Mill! Let's take a closer look at a few of the many reasons to make the move to Embrey Mill:
1. The Stunning New Home Designs: Our award-winning homebuilders here at Embrey Mill put forth a diverse array of distinctive single family and townhomes, inspired by Virginia's historic countryside estates, with open, truly stunning floor plans that are sure to impress. One visit and we're sure you'll agree—the wide range of home styles offered by our nationally-acclaimed homebuilders creates an eclectic yet truly remarkable community streetscape!
2. Embrey House: Embrey House is truly the social hub of our community—as it is home to our fitness center, community pool, resident concierge, the Grounds Bistro & Cafe, and even an outdoor patio, complete with a community outdoor kitchen, perfect for a family get together, birthdays, or happy hours!
3. The Grounds Bistro & Cafe: Located in the Embrey House Welcome Center, the all new Grounds Bistro & Café is at the heart of the community gatherings. Where neighbors become fast friends over a cappuccino or celebrate it's finally Friday night at the outdoor kitchen and patio. It's the perfect place to socialize and unwind. Enjoy brand-new, expanded menus that change seasonally. Discover the talk of the town with some neighbors today.
4. The Fitness Center: Our brand new Fitness Center, located within Embrey House, offers homeowners the perfect place to get in shape, working out alongside neighbors and friends, while overlooking the pool. Our fully-equipped fitness center includes a wide range of state-of-the-art equipment—ranging from cardio equipment, treadmills and elliptical, to weight machines, free weights and circuit training machines.
5. The Clubhouse Pool: Embrey Mill's community pool, located directly behind Embrey House, includes a beach-entry pool with five lap lanes, a slide and separate kids wading pool. Lay out on the sundeck, or relax in the shade of the colorful sails by the kids pool—the choice is yours.
6. The Community-Wide Events: Our community here at Embrey Mill is home to numerous community-wide throughout the year—from "Wine Down Wednesdays" for our wine enthusiasts and "Yoga in the Park", to concerts, movie nights and more.
7. Racetrack Park: What kind of community would have their own racetrack? Embrey Mill of course! Kids (and adults alike) simply love our beautiful, technicolored racetrack park, home to a mini-racetrack, ideal for trikes and scooters, which weaves through a beautifully-landscaped lawn with brightly-colored tires and stoplights scattered throughout. It's yet another reason out community is the #1 Family Community in Stafford County!
8. Festival Park: Located at the very heart of our community—Festival Park's open-air pavilion is home to a number of community-wide events throughout the year, from summer cookouts and movie nights  on the lawn, to concerts and festivals and more!
9. The Dog Park: Embrey Mill's brand-new dog park, anticipated to open this spring, will be an open space for dogs from our beautiful community to play—with dedicated areas for large and small dogs.
10. The Nature Trails: Last but certainly not least—many of our homeowners here at Embrey Mill are simply in love our 10+ miles of nature trails, winding through 285 acres of babbling brooks, stunning naturescapes and serene scenic overlooks. Our nature trails are ideal for an afternoon jog or a day spent exploring the rolling hills of Stafford, VA!
So what are you waiting for? Check out our stunning collection of new single family and townhomes with the use of our Homefinder today, so you can just sit back, relax, and enjoy the view tomorrow! For a closer look at our beautiful community, be sure to stop by for a visit.