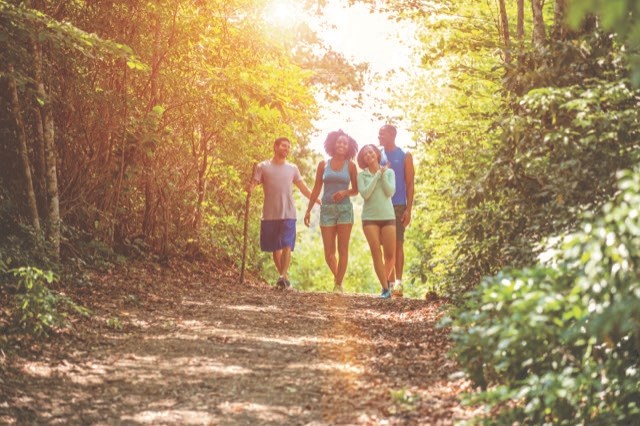 How to Have Your "Best Day Ever" at Embrey Mill
At Embrey Mill, our residents are brought together through community events, neighborhood gatherings, and all of the amazing amenities. Spanning over 285 acres of open space, you will have plenty of room to get out, play, and explore. Ready to have your Best Day Ever? Let's go!

1. Embrey House/ Grounds Bistro & Cafe
Upon entering our Stafford, VA community, you'll be greeted by the Embrey House, the heart of Embrey Mill. Catch up with friends on the outdoor patio, then sit poolside while your kids stay cool in the beach-entry pool (caution: SPLASH ZONE!). When lunchtime rolls around, either start up the outdoor grill (free for any resident to use) or grab a bite to eat at the Grounds Bistro & Cafe. That's not all - if working out is part of your Best Day Ever, be sure to swing by the Embrey House gym on your way out. Lift some weights or work on your stamina in our exercise facility, which overlooks the pool deck.

2. Knight House
If you call Phase 2 of Embrey Mill home, you won't want to miss this stop on your Best Day Ever. The Knight House, Embrey Mill's newest community clubhouse, is set to open this summer and will feature a second community pool, basketball court, and playground. Bring it on, Summer '19!

3. Nature Trails
Walk or jog, bike or hike - the choice is all yours! Our nature trails are designed for all difficulty levels, so believe us when we say it's never too late to get out there and enjoy the view. Take a brisk walk through the neighborhood on the Park Loop Trail or venture into the woods on the scenic Mine Road Trail, Hiking Trail, or Rocky Run Trail. Don't forget to pack water and take pictures (if you post them, be sure to use #MyBestDayEver so we can see all the fun)!

4. Parks & Playgrounds
Playtime at the local park has to be one of our favorite childhood memories, which is why we made sure Embrey Mill has plenty of park and playground options for all of our younger residents. Put your tricycle to the test at Racetrack Park, visit Embrey Field for a game of soccer, or cook up some s'mores with friends and family at the Heritage Park fire pit. It doesn't stop there - seven parks are awaiting the fun. Just remember, safety first!

5. Dogwood Dog Park
Dogs just want to have fun too, right? Let your pup un"leash" some energy at the Embrey Mill Dogwood Dog Park. With separate areas for both small and large dogs, you and your pup are guaranteed to have the time of your lives. Play fetch with some new furry friends, put your skills to the test with available agility obstacles, then wash up those paws at our pet washing station before heading back home for a well-deserved nap. Keep an eye out for the new dog run, coming to Phase 2 in 2019!

6. Community Garden
Calling all gardeners! Have you joined our resident garden club? Located right next to the Dogwood Dog Park, our community garden is a great place to meet fellow neighbors while growing your love for gardening. Prepare for those exciting summer cookouts and Fourth of July celebrations by planting your favorite vegetables and herbs. (We'll bring dessert!)

Fresh air and sunshine are good for the soul, so don't miss out on your Best Day Ever! For more information on our amenities, please feel free to contact us.