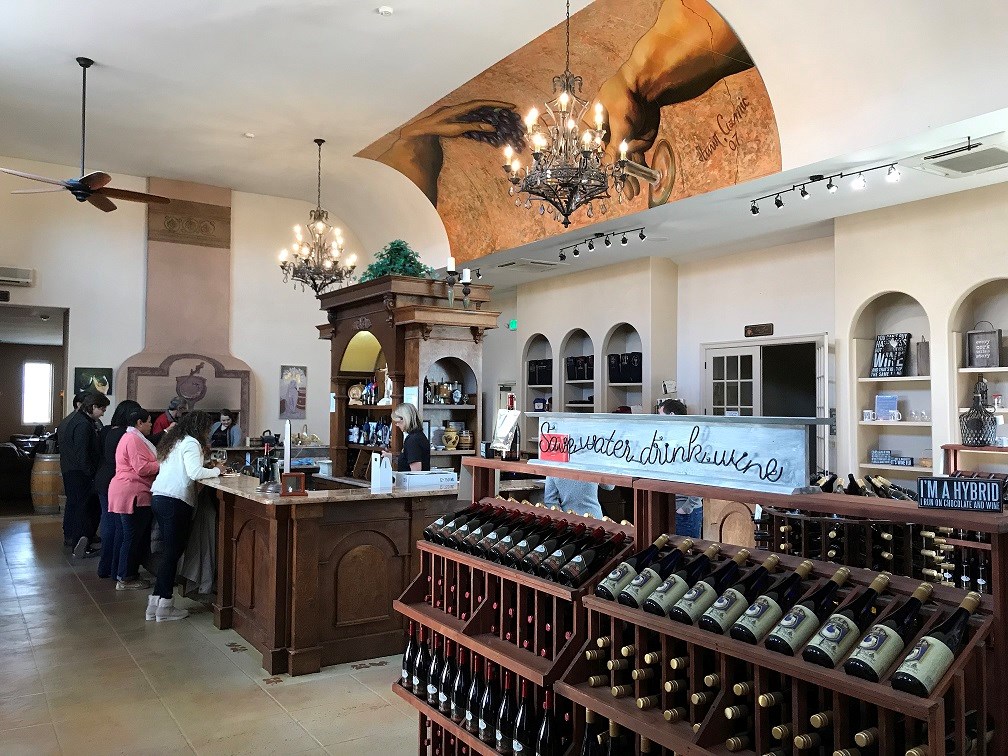 Best Day Ever Couples

Best Day Ever: Couples Edition
This Valentine's Day, we're doing all the planning for you. So sit back, relax, and enjoy Stafford County! While hanging out at home is an option, why not get out and explore the area? After all, adults deserve to have their Best Day Ever, too. Escape the hustle and bustle of everyday life and visit the Potomac Point Vineyard & Winery (PPW), just 12 miles from our new home community.

Along the winding road, you'll see the entrance to PPW and know you've made it to your destination. Feel a sense of serenity as you travel down the gravel trail with grape vines to your left and right, the perfect scenery to your next Best Day Ever. The outdoor courtyard and veranda will be one of the first things you see when you approach the tasting room, the perfect spot for special occasions like parties and wedding receptions.

Once inside, you'll be greeted by the friendliest staff who will welcome you to Potomac Point Vineyard & Winery. Start your Best Day Ever Valentine's Day journey in the elegant tasting room, where you will get your first taste of home-grown wine, handpicked by the site's winemaker. The murmur of guests and light music will immediately set the atmosphere, with racks full of wine and fun accessories to match (including the ever so popular gurgling fish pitcher). This wine lover's dream will start with selecting either the Classic tasting, which is $7 per person and includes six to eight wines, or Premier tasting, which is $12 per person and includes eight to 11 wines plus a complimentary Potomac Point Vineyard & Winery glass to take home. Both tastings come with free access to the olive oil tasting bar, which offers four different house-infused flavors including smoked paprika, rosemary, basil, and roasted garlic (yum!).

After winning, we strongly encourage dining at the Le Grand Cru Bistro. Each season, they adjust their menu to ensure each menu item is made with the freshest locally grown ingredients available. From cheese platters to delectable shareable and entrees, you and your Valentine are guaranteed to have the Best Day Ever.
Speaking of, the Potomac Point Vineyard & Winery are holding their doors open until 10 pm on February 14 for a special Valentine's Dinner. Share a romantic evening with your loved one with the help of the PPW staff. Enjoy mouthwatering wine and a savory three-course dinner in the relaxing atmosphere. Reservations are required, so be sure to call 540-446-2251 to book your spot!

If you decide to just stop by for a post wine tasting snack, we highly recommend the baked brie with mango chutney and roasted almonds and the spinach & artichoke dip, served with toasted baguette slices (but really, there's no going wrong with this menu, so pick out what sounds most delicious to you!). Take a look at the Le Grand Cru Bistro menu.

When it's time to leave, there's a good chance you'll already be planning your next trip back (did we mention kids and dogs are welcome?). With a new bottle of wine in tow, you'll be talking about your Best Day Ever at the Potomac Point Winery for days.

If you'd like to learn more about visiting PPW and the upcoming Valentine's Dinner, please visit potomacpointwinery.com.