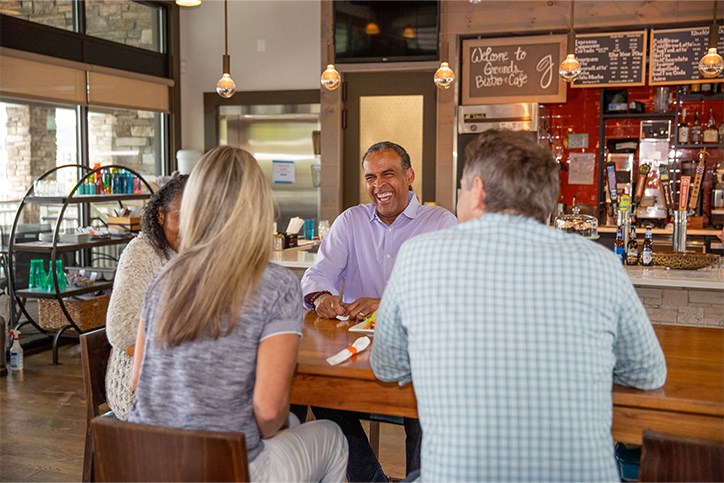 Cascades at Embrey Mill Provides a Unique Active Adult Experience
When you research Active Adult real estate, you always see communities touting "location, location, location."
With that repeated word, these communities highlight all the things they are near—that is, all the things outside the community.
And while it is very important living near the dining, shopping, and entertainment locations you frequent and want to explore further, what the community around your home provides is equally if not more important.
Embrey Mill is such a community. From restaurants, to shops, to entertainment venues, to major work centers, being close to Stafford, Fredericksburg, and Washington, D.C. puts everything outside Embrey Mill conveniently within easy reach.
But it's what's inside Embrey Mill that really counts—especially when you live in our Active Adult section: Cascades at Embrey Mill.
Here are some of the main reasons why being part of the Embrey Mill community makes Cascades such a unique Active Adult experience.
Luxurious living with a low-maintenance lifestyle
At Cascades, there are two different home options: Luxury Villas by Miller & Smith and Elevator Flats by Drees. Each home provides elegant and airy spaces artfully created to give you the best main-level-living experience, all in a low-maintenance home. With more storage than you'd expect (yet as much as you desire), both options let you create your ideal place to inspire your next adventure, create your next masterful meal, entertain your friends and family, and treasure every aspect of your new home.
A private club, just for you
The Cascade Club is that special place where only residents of Cascades can play. Inside, there will be an event kitchen, a lounging area with a fireplace, a game room, a meeting room, a yoga room, and a weight room. It's everything you need to unwind from the day's escapades, catch up with neighbors, and revel in all life has to offer. And when you need some fresh air, have fun in the sun and under the moon with our planned Pickleball and Bocce ball courts, an oversized chess/checkers board outside, a sundeck with outdoor grills, and 2 fire pits. Just for you.
Fresh herbs and veggies at the community garden
Some of us have green thumbs, while others of us just like to eat greens! But regardless of your skill (or luck) in raising herbs and vegetables, having fresh ones always makes everything taste better. Planted and maintained each season by our resident garden club, Embrey Mill's community garden is free for homeowners. Enjoy the freshest salads, tastiest burger toppings, and intense flavors that only come with just-picked ingredients. (Limited space available)
Delicious meals without leaving Embrey Mill
Serving flavors that change with the seasons—plus some standard comfort food and delectable drinks—the Grounds Bistro and Café is always ready to tantalize your tastebuds. And all without ever leaving Embrey Mill! Grounds Bistro and Café is yet another place to enjoy and relax with neighbors from Cascades and the greater Embrey Mill community.
Being part of a truly connected community
This is the real reason that makes Cascades at Embrey Mill such a unique Active Adult experience: Embrey Mill is tight and caring community. One whose very nature is woven with family, heart, and miles of hiking/biking trails, making it both figuratively and literally connected! Embrey Mill is more than the sum of its parts, as each home, section, and amenity combine to form a community like no other. It's a resort-feel lifestyle for you to enjoy whether you work from home, work outside the community, or just remember working as a thing of the past.
Cascades feels separated enough at the top of Embrey Mill to preserve all the things that make it special without losing any of the cohesiveness with the rest of the community. Picture your kids and grandkids already living in Embrey Mill. Then you move into a brand-new home in Cascades. Though you would live in your own section with your own circle of friends and private amenities, you'd also be able to visit with your family easily and often. They would live just down the street! That's the magic and uniqueness of Cascades at Embrey Mill: family, friends, community, and connectiveness all just outside your front door.