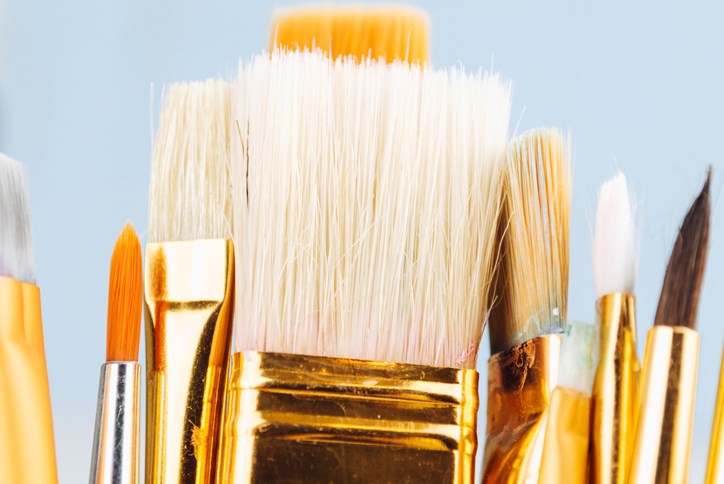 10 DIY Furniture Hacks & Projects to Enhance Your Space
Furniture gives you places to put your stuff.
Furniture gives you places to sit down and relax.
Furniture makes our homes feel like… well… home.
But sometimes you have an old piece of furniture that doesn't quite work, and you wish was a something else. Or you see a piece at a store or yard sale that calls to you, but you're not sure why.
Time to get out your DIY tools and transform that piece of furniture into something that perfectly fits your home and tastes.
Here are 10 DIY furniture hacks and projects to enhance your space.
1. Shutter to mail organizer
As with many of the following DIY projects, this one can be as complex or simple as you desire. Clean off any grime, add a new coat of paint, add a back, and you have yourself a very unique mail organizer. Here is an instructable that shows you how to take this DIY project and go even further by adding custom lettering. Do mind one of their best tips: Secure every few slats in the shutter to your backing so the mail can't fall through and disappear forever!
2. Stool to wrapping paper organizer
Sometimes, the way to get the best use out of a piece of furniture is to flip it upside down. Inverting a stool, adding some wheels and bags (premade or custom) can turn that simple stool into a mobile wrapping paper organizer. Here's a really great step-by-step to follow if you want to make your own. It will definitely take some stress out of any gift preparing situation.  
3. Dining chairs to bench
Stools aren't the only seat you can repurpose. If you have a few dining room chairs that you don't know what to do with, turn them into a customized bench! Here's one way to turn three chairs into one bench. It basically boils down to attaching the chairs together with a newly built platform that becomes the seat of the bench. It can be left as wood, or you can add cushions depending on your décor and seating preference.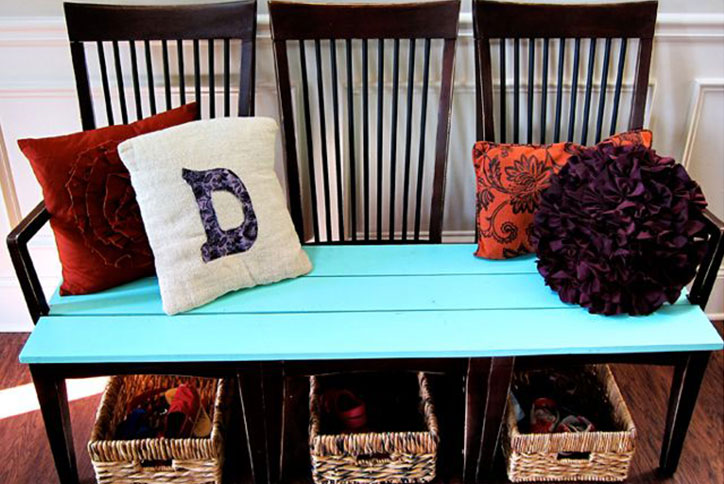 4. Dresser to TV stand
But now that you've gotten rid of your console TV and your new flatscreen doesn't need a full hutch, what are you going to put your television on? Just get an old dresser and remove some of the drawers (and their hardware) where you'd rather have a shelf versus a drawer. Add paint, tiles, or any other decoration you'd like, and you have a custom TV stand perfect for your space (you just might need to drill some holes in the back of the unit for cable management). Google searches will turn up with all sorts of inspiration for your own dresser-to-TV-stand conversion.
5. Repurpose old drawers
As you sit down to binge your favorite show and savor your custom TV stand, a thought pops into your head: What are you going to do with all the drawers you removed? Lucky for you that old drawers are one of the most versatile pieces of furniture to DIY. You could turn them into shelves, organizers, pet beds, underbed storage, or (a perfect way to complement your TV stand) a footrest! Here are 20 DIY ideas on how you can repurpose your old drawers.
6. TV console to deluxe pet bed
In the olden days, televisions were big units that sat on heavy furniture or the floor. In the old olden days, televisions were giant pieces of furniture, often with ornate woodwork. If you can find one (or still have one), you can transform it into one of the coolest pet beds around. All you have to do is remove all the electronics and add some decorations and cushions, and your four-legged friend will be lounging in style. Take a look here to see how amazing this project can be.
7. Turn picture frames into classy mirrors
Mirrors are simply a highly reflective coating that's added to a piece of glass or plastic. You can create this in your own home with an old picture frame and some specialty spray paint. The paint creates that shiny backing on the glass or plastic and pretty quickly you can have a fancy new mirror you made yourself. Paint the frame antique gold for an even fancier finish. Here's a video testing two different mirror spray paints so you can compare and decide which is best for your project.
8. Turn glass into frosted art
Time to pop out another spray paint, this time to turn regular glass into frosted glass. Protect the parts of the glass you want to still be see through (take a look at this video for a sample project) and then spray the rest of the glass with this special spray paint. When the paint dries, peel off your masked areas for a truly original, frosted glass design. Use this technique to customize glass and turn it into a one-of-a-kind work of art.
9. TV hutch to play kitchen
Even though they aren't the big console television, TV hutches do take up quite a bit of room. With a big square space for the televisions of yore, and shelves to hold all the bulky additional electronics, they are just begging to be repurposed into something more useful… or fun. This is one of the more imaginative transformation projects we've seen. With some paint, some new doors, and a little carpentry knowhow, you can turn an old TV hutch into a pretend-chef-caliber play kitchen. Bon appétit!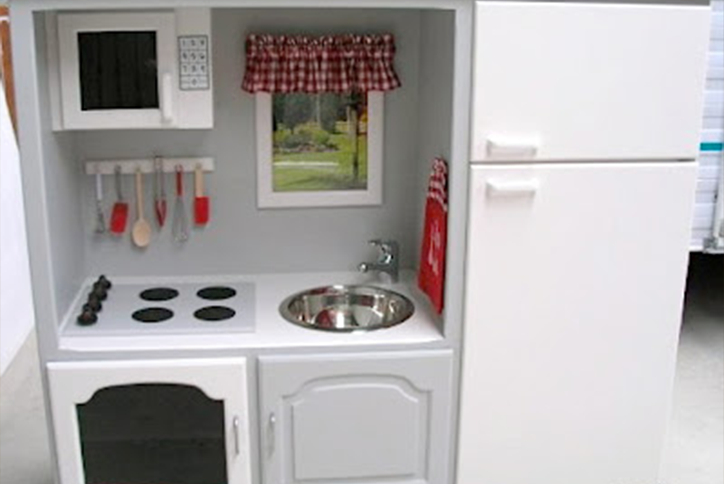 10. Hack your Ikea furniture
Ikea furniture is iconic, modern, and often utilitarian. While it doesn't fit every décor, it certainly provides a fantastic backdrop and pallet for DIY furniture. It's called Ikea hacking, and there are all sorts of cool things you can do by combining different parts of Ikea products, minimal additional hardware, and decoration. Turn cube storage into portable kitchen islands, hide a work station in a living room cabinet, or convert larger cube storage into a hallway drop zone with integrated bench. Best of all, if you come up with your own hack, you can share it with the world!
Why hack furniture?
Furniture should always be the perfect combination of form and function. And when your tastes and needs change, your furniture should change too. Hacking furniture is a fun way of altering it to fit your lifestyle without just throwing it out and buying new things. It's about adding and combining and decorating until the piece of furniture is exactly what you want it to be. Plus, furniture hacking can be a great way to find projects to complete as a family, turning every part of your home into something special.