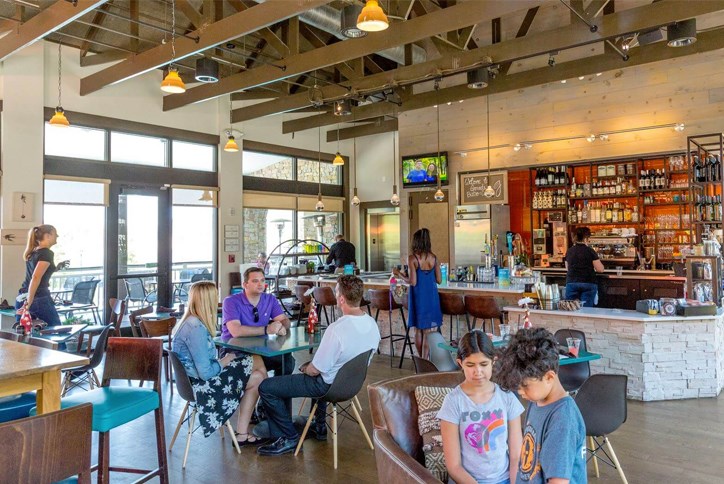 The Best (& Often Unique) Places for Dining and Shopping in Stafford County
Living at Embrey Mill means you're in a community unlike any other.
Full of trees and trails, green spaces and great neighbors.
It's a wonderful place to live and also an easy place to find dining and shopping adventures.
Here are some of the best (and often unique) places for dining and shopping in Stafford County.
Stafford Marketplace
Less that ten minutes from Embrey Mill, you'll find Stafford Marketplace. This shopping center has a little bit of everything. From hardware to crafting to electronics to food, Stafford Marketplace is the perfect place to go with your long and varied shopping list. Get that last thing for your child's school project, a snack for lunch, a new Blu-ray for movie night, and all the ingredients to make a great dinner.
Olde Virginia Gourmet & Gifts
Right down the road from Stafford Marketplace, is the unique and fun Olde Virginia Gourmet & Gifts. This is where you go to buy Virginia. Peanuts, wine, craft beer, snacks, treats, sauces, oils, pickled items, jellies, raw honey, candles, soaps, and the list goes on. Almost everything is made in Virginia, so not only are you getting special recipes and formulations, but you're also supporting many local artisans, artists, and businesses.
Long Family Markets
Also near Stafford Marketplace are the Long Family Markets. This veteran/minority-owned and family-operated marketplace champions everything fresh and local. You'll find meats, eggs, seafood, baked goods, knife sharpening services, and more. And kettle corn—we can't forget to mention that delicious, sweet-and-salty treat. Meet and connect with local farmers, bakers, apiarists (a fancy word for beekeepers!), and more in one easy-to-reach location.
Potomac Point Vineyard & Winery
About a 20-minute drive from Embrey Mill, Potomac Point Vineyard & Winery is a destination without compare. Northern Virginia's premier winery is nestled on a European estate, making you feel like you've somehow been transported to Tuscany. With wine tastings and a full bistro, you'll love exploring Potomac Point's award-winning wine selection and menu. Just note: You will have to plan ahead for this culinary excursion, as reservations are required.
The Secret Garden Cafe
Okay, so this one is technically not in Stafford County, but it's so close and special we had to include it on this list. Located in the heart of Historic Old Town Occoquan, The Secret Garden Cafe is surrounded by a beautiful and secluded garden. With menus made from scratch and created by their in-house chefs, your mouth and stomach will agree: The Secret Garden Cafe is worth the drive! They even post recipes online, so you can make your favorite dishes at home.
Bella Cafe
A 12-minute drive and you'll find yourself at Bella Cafe. This is the place to go when you want a tasty sandwich and to have your brain frozen. That's because one of Bella Cafe's specialties is their Brainfreeze Milkshake. Each shake (and they have over 50 flavors to enjoy) is made with frozen custard for a richer, thicker, and creamier milkshake experience.  We say "experience" because these shakes only come in one size: 21oz. That means they're perfect to share!
Mama Chepa's Latin Restaurant
Mama Chepa's Latin Restaurant is your nearby restaurant to get some of the very best Salvadorian and Mexican cuisine in Stafford. This family-owned restaurant features pupusas, fajitas, tacos, and some delicious authentic house specials. Just reading through their menu will get your mouth watering, and their fresh dishes will not disappoint. And so many are made with Mama Chepa's homemade tortillas!
The Globe and Laurel
Just a few miles south of the National Museum of the Marine Corps is a restaurant founded by one of their own. A 29-year Marine Corps veteran, Major Richard Spooner opened The Globe and Laurel over 50 years ago, and it's been serving delicious meals ever since. Honoring the men and women who serve in the military and law enforcement, The Globe and Laurel has elevated steaks to a new level. It's a place where you'll come in hungry, but you'll leave full, happy, and proud.
Grounds Bistro & Café
Of course, our favorite place to eat in Stafford County is right here in Embrey Mill. The Grounds Bistro & Café, as you know, offers seasonal menus and year-round favorites. It's where you go to hang out with your neighbors, chat with your friends, and realize your "friends" and "neighbors" are really the same people! Whether you crave Mermaid Water or a cappuccino, loaded nachos or an Angus strip steak, Grounds is ready to delight your palate. There's something here for EmbreyONE to eat and drink and love!