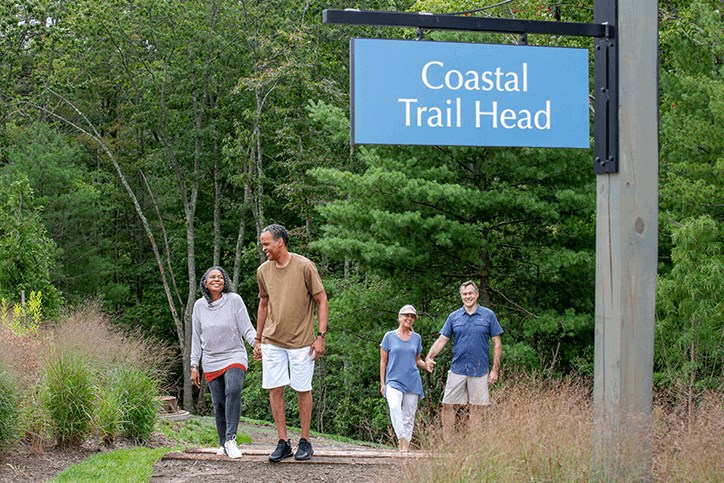 Staying Active in Stafford, VA
"Home is the nicest word there is."
― Laura Ingalls Wilder
At Cascades at Embrey Mill in Stafford, VA, home means more than just a place to live. It's a place where everything begins.
Cacades at Embrey Mill offers a carefree, low-maintenance lifestyle. Surrounded by abundant amenities both in this exclusive Active Adult section and in the encompassing Embrey Mill community, home is always right where you want to be.
From the pickleball and bocce ball courts, to the yoga and weight rooms, to the pools, to the miles of trails, there's always something to keep you going inside Embrey Mill.
But even in this idyllic setting, sometimes you just want a little more. Something to get you deeper into the joys of Stafford, VA: a treasure trove of history, scenery, and adventure.
We're here to help. These are 5 of our favorite ways to stay active in Stafford, VA without traveling too far from home.
Golf
The power of the drive. The precision of the putt. The feel of the wind at your back and the green beneath your feet. Nothing beats the way great weather and golf can combine to form an ideal afternoon. And you have many golfing options from your home at Cascades. From the Augustine Golf Club to the links at Aquia Harbor, fantastic golfing opportunities abound. And if you want to just practice or for some fun, go to Locust Shade Park. Perfect your swing at their driving range or bring the grandkids to their 18-hole miniature golf course.
Hiking
Of course Embrey Mill has miles of trails winding throughout our community. And of course these trails can take you to the Cascade Club, Embrey House, Grounds Bistro & Café, and everywhere else in Embrey Mill. But there are lots of other nearby hiking (and biking) opportunities. So many, in fact, we've written an entire blog post about them. Here's a list of some of the best hiking trails inside and out of Embrey Mill.
Skating
Hiking is fun, but sometimes you just want to move a little faster. That's why roller skates were invented! It's a little bit retro, a little bit future, and all fun. Two miles down the road, you'll have a blast at The Cavalier Family Skating Center. You can even take lessons to get your skills up so you can really show off the next time you hit the rink. Strap some skates or roller blades on and (quite literally) let the good times roll.
Swimming
The Embrey House pool is a wonderful place to cool off, do some laps, and enjoy a trip or few down the waterslide. When you want a little more aqua-fun, a quick drive or walk and you'll find The Rouse Center. This state-of-the-art, 76,000 square foot facility will take your aquatics to the next level. Enjoy a 50-meter competition pool, a 25-yard recreation pool, a warm-water wellness pool, a group exercise studio, fitness floor, a full-size basketball court, and a full-service café to recharge your batteries after a water workout.
Fishing
Sometimes you want to swim in water and sometimes you want to catch things swimming in water. Largemouth bass, crappie, chain pickerel (as large as three pounds!), channel catfish, and bluegills are just some of the fish that can be found in many Stafford County fishing spots. Two of our favorites are Abel Reservoir and Aquia Landing. Abel Reservoir is a 185-acre reservoir reminiscent of a Canadian lake. It's a great spot for fishing and about 10 minutes away from Embrey Mill. Travel just a little farther, and you can enjoy the fishing (and swimming) of Aquia Landing's 32 acres of parkland. Plus, your background music will be provided by the area's many songbirds.

All these active adventures are great ways to explore Stafford, VA. They are close by, fun, and perfectly complement the adventures you can have right at home at Cascades at Embrey Mill.