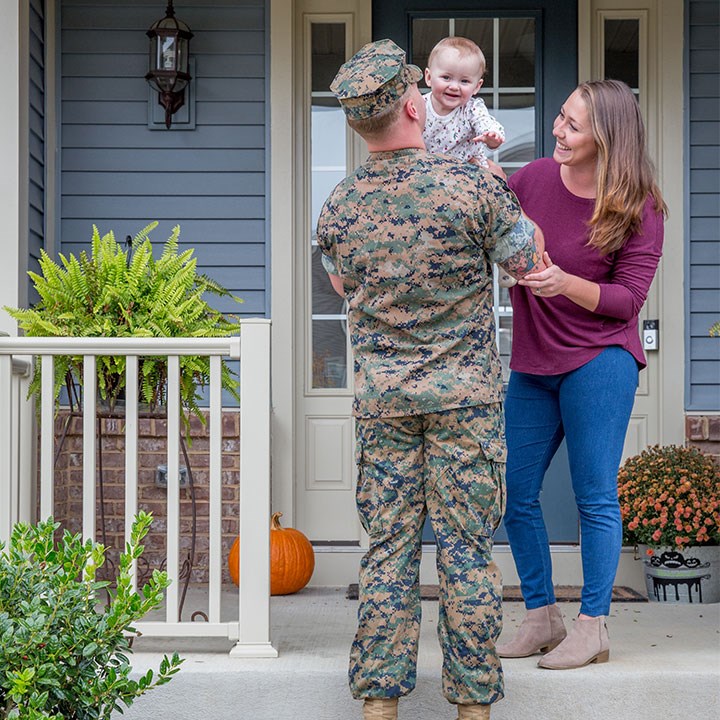 We Salute Military Families at Embrey Mill
"The glory theirs, the duty ours...."
– Wallace Bruce from his poem Memorial-Day
At Embrey Mill, we're thankful for those who serve—and their families.
At Embrey Mill, we watch out for those who serve—and their families.
And when military families look for a place to raise their kids, a community that understands what it is to be in the military, and a spot that really puts the "home" in home base, we're honored when they choose Embrey Mill.
Why do so many search for "house for military near DC" and decide to move to here? These are the top five reasons why so many military families find their new home at Embrey Mill:
Location
Embrey Mill is located in beautiful Stafford County. Close to Aquia Harbour and the Potomac River, and central to so many parks (and their hiking trails), living at Embrey Mill puts you right in the middle of a natural wonderland. Plus, you're only 5 miles from Marine Corps Base Quantico, 31 miles from Fort Belvoir, 39 miles from The Pentagon, and 43 miles from Washington, DC for easy commutes to wherever work takes you.
Neighbors who know
Embrey Mill celebrates our military families. Our high military population—67% to be exact—means you'll instantly have neighbors who understand what your life is like. Neighbors who quickly become friends with a level of support that only military families understand. Your children will learn together at some of the best schools in the area, and you'll all relax together as you enjoy our many community events.
Amazing amenities
When you live in Embrey Mill, there is so much fun you can have without ever leaving the community. With over 285 acres of open space—including over 15 parks and 10 miles of trails integrated throughout—there's just so much to explore. Relax at one of our pools, exercise in our fitness center, and taste nature from our community garden. And speaking of tasting, there's always something delicious cooking up at the Grounds Bistro & Café, located in the Embrey House: the heartbeat of our community.
Landscaping solutions
We like to provide a little extra support for Embrey Mill families who have deployed family members. If you are deployed, we'll take care of your landscaping services: mowing, edging, and air blowing your lawn. Just one less thing to worry about while you're away from home. We want to do our part in supporting our military families, take away a little unneeded stress, and to make your arrival back home as joyous as the first time you came home to Embrey Mill.
Homebuilder incentives
Every Embrey Mill home builder (Richmond American Homes, Drees Homes, and Stanley Martin Homes) celebrates your military service by offering special incentives to military members and their families. Whether you need support covering your closing costs, extra design credits, or a special discount with our "Hometown Hero" program, we make sure you're taken care of from the moment you choose to call Embrey Mill your new home.
Embrey Mill is committed to providing the best home for all our homebuyers, especially those in the military. We've built a community where families can play and learn, explore and connect, and grow and thrive. For more information on how Embrey Mill helps military families find their forever home, click here.