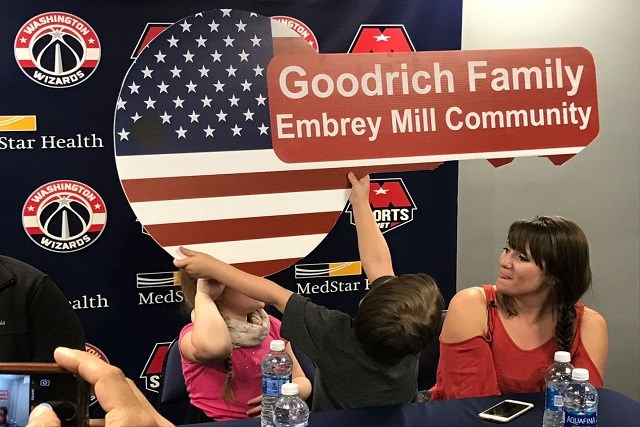 Operation Finally Home Announcement
When most people attend a basketball game, they can expect long lines to get in, loud music, overpriced junk food, and the feeling of tension every time someone has to take a free throw. However, during the Washington Wizards game that took place on Veteran's Day, retired U.S. Army Sgt. Timothy (Michael) Goodrich and his family got a huge surprise during halftime that they did not see coming. Operation Finally Home, a nonprofit organization that brings together builders and communities to provide homes for America's military heroes, revealed plans to build a custom, mortgage-free home here at Embrey Mill for the Goodrich family, to thank them for their service. Talk about a memorable halftime show!
There were smiles and tears all around as Sgt. Goodrich accepted a giant key cutout adorned with the stars and stripes during the game from representatives of builder Miller and Smith, Embrey Mill by Newland Communities, and from Operation Finally Home. "When you hear someone just say a simple thank you-- we don't look for it-- we don't expect it, but when you hear it, it's nice to know that people think about you," said Sgt. Goodrich who could not express enough gratitude on this very special day.  Check out the video of the whole reveal here!
 "We extend our gratitude to Miller & Smith, Newland Communities and the various partners involved in building the Goodrich home and making this moment special for the family at an inspirational Washington sporting event," said Rusty Carroll, executive director of Operation Finally Home. "Miller & Smith was a natural fit for this project. It is our honor to work with those who respect and value the sacrifice of America's veterans and their families."
Over the past 11 years, Operation Finally Home has funded and organized the construction of more than 200 homes that in more than 30 states across the U.S. Their unique network of builders, suppliers, supporters, and community organizations pool their resources to honor those who have served and sacrificed for our country.