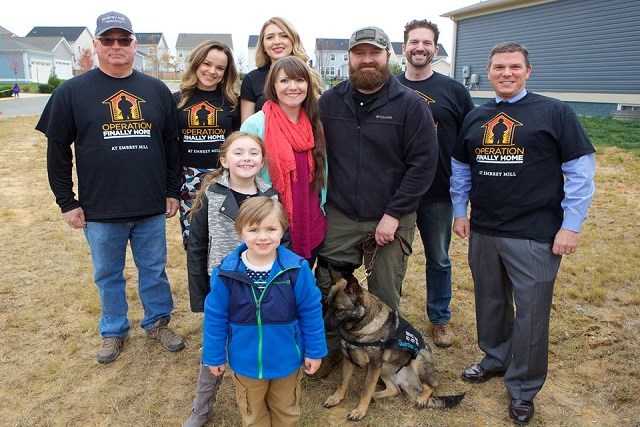 Operation Finally Home Groundbreaking
It was a very happy, proud, and emotional day here at Embrey Mill on Monday, November 14, 2016.
The Goodrich family, Army Sgt. Timothy Goodrich, his wife Jacqueline, daughter Lucy, 8, son Tag, 4,
and service dog Maci, were welcomed by a large crowd of Embrey Mill residents, Stafford County officials, and representatives of both Newland Communities and all of the builders at Embrey Mill. The gathering was for the groundbreaking of the home the Goodrich Family will be receiving through Operation Finally Home.  This non-profit organization brings builders, suppliers, and communities together to provide homes for our military heroes and their families.
While serving in Afghanistan in 2012, Sgt. Goodrich suffered severe injuries. Operation Finally Home felt due to their service and sacrifice, the Goodrich family were deserving of a brand new, mortgage free home.
Dale Hall, vice president of Miller & Smith said, "While Miller & Smith are taking the lead, without each and every one of the builders here today, this would not have happened."  This includes all of our Embrey Mill builders: Atlantic Builders, Drees Homes, Integrity Homes, K. Hovnanian Homes, Lennar and Stanley Martin. Hall added, "Such a big part of Embrey Mill is community.  It has a large component of military families and government employees.  This is the perfect community for a family."
The entire family shoveled the dirt to start the groundbreaking on what will soon be the site of their new home4. Gary Scola, Vice President of Operations for Newland Communities, said Newland donated the land for the project but it took a community to make the home happen. "The response we have gotten from everyone involved in this has been: "What else can we do?" Scola said.
The emotions of the day could be clearly seen on Sgt. Goodrich's face, as he was brought to tears while shoveling the dirt on his new home site. It was evident that he had a great amount of gratitude for all that participated in this event. Sgt. Goodrich said, "I am overwhelmed and excited – who gives away a house? But it is not about the house; it is the actions of the people. It takes good people with great hearts to do things like this. Each person here today will hold a place in our lives forever."