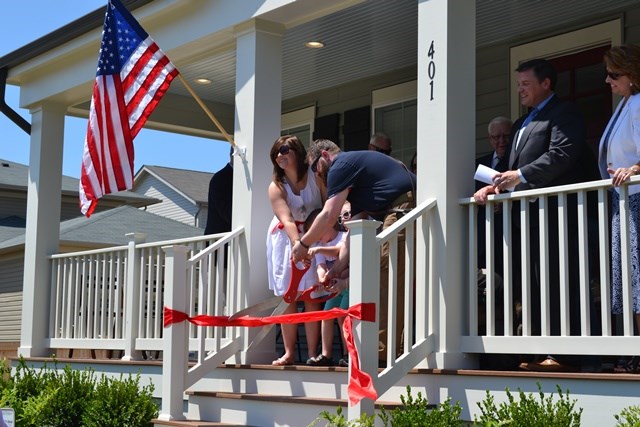 Operation Finally Home Ribbon Cutting
As we walk up to the front door of our home the one thing we take for granted is that our house key will open the door.  We reach deep in our pocket or purse without even looking and fumble around until we hear that familiar jingle.  A house key is such a small item yet it has many functions.  Not only does this small key allow us to protect our family and belongings, it also represents ownership.  This is my key and it opens the door to my home.  The place I find shelter and comfort.
On Friday May 19th, the Goodrich family was presented the key to their new mortgage free home.  "It's just beyond anything we ever could have imagined," said his wife Jacqueline Goodrich. "It's not just a home; it's peace of mind."
Thanks to, Operation Finally Home along with Miller & Smith, Embrey Mill by Newland Communities, Atlantic Builders, Drees Homes, Integrity Homes, K Honvanian Homes, Lennar, Stanley Martin Homes and Stafford County the Goodrich's  will have a new "Home Base".
"After the extreme highs and lows of the past five years, we are looking forward to peace and rest for the first time in a while," Jacqueline said. "We are so humbled that dozens of contractors and vendors are coming together to give our family a better quality of life."