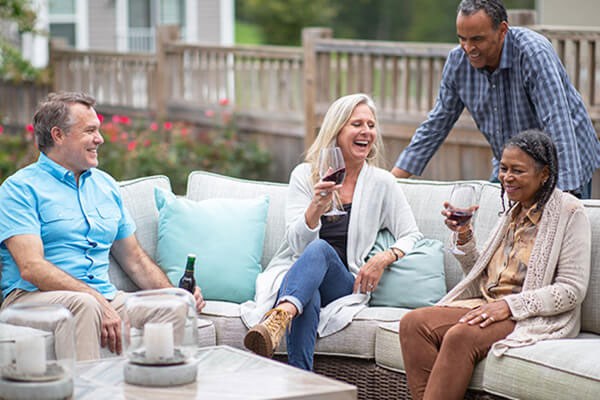 Retire to adventurous Northern Virginia
When work is through, the real living begins.
Living that centers on you.
Living that rewards you for your service, and that pampers you... because you've earned it.
Retirement living at its finest.
And it's even better when you can have the joys of retirement and still stay close to the ones you love.
We think nothing beats retirement in Northern Virginia, especially at Cascades at Embrey Mill. Here's why:
Northern Virginia is excitement
It's called "Northern Virginia," but it could very well be called "Central Everything" because so much is within easy reach. There is always something exciting to do here! Let's highlight just a few of the many adventures you can enjoy.
A history-rich land, Virginia is full of memories and reminders of our nation's birth and growth, and the verdant land and cultures that predated European settlement. Battlements have been preserved, monuments were erected, and all can be toured and experienced. From George Washington's or Thomas Jefferson's homes, to Colonial Williamsburg, to the Manassas National Battlefield Park, so much of the history of our country is all within driving distance.
This history is also reflected in the food and drink of the area. Seafood freshly caught in local waterways, wine straight from generational vineyards, and a melting pot of world-wide delicacies—there's always something tasty waiting for you to discover in Northern Virginia.
The scenery of Northern Virginia is beyond compare. Mountains, hills, forests, fields, and waterfronts are all around. And many of these postcard-worthy vistas can be found in national or state parks, crisscrossed with trails for exploring by hiking and biking.
And then—just a short trip away via car or Metro—there's our nation's capital. Washington, D.C. provides even more opportunities to explore history, dining, sightseeing, learning, and entertainment. It's a city the world looks to for inspiration: a city where art beats to the sound of our country's collective heart. And it's right in Northern Virginia's backyard, so to speak.
All these reasons and more are why HomeSnacks (who pulls together research and creates "Best of" home lists), ranked Virginia #8 on their list: The 10 Best States to Live In America For 2021. And then there's Embrey Mill.
Embrey Mill is community
Embrey Mill is one of Northern Virginia's premiere communities. And just as Northern Virginia is central to everything amazing in this area, so your Embrey Mill home is central to everything amazing in Embrey Mill!
Embrey House is the heart of the Embrey Mill community, with its pool, fitness center, and Grounds Bistro & Café. With its seasonal menus, indoor and outdoor dining, and delicious food, Grounds always has new surprises for your palate.
The picturesque scenery of Northern Virginia is beautifully swirled through Embrey Mill. Over 15 parks and playgrounds (including dog parks for your four-legged friends) are sprinkled throughout the community. Some even have fire pits, perfect for storytelling and s'mores. And everything is connected with over 10 miles of nature trails awaiting your hiking and biking adventures.
The community of Embrey Mill comes together in many different ways. Whether it's at our resident-grown and maintained garden full of herbs and vegetables open to EmbreyONE, or community activities such as wine tastings, movie screenings, and Yoga on the Lawn—the Embrey Mill community is always an exciting place to be.
Cascades at Embrey Mill is home
If retiring to Northern Virginia is a dream, then Cascades at Embrey Mill is a dream come true. Our exclusively Active Adult section offers you a low-maintenance lifestyle elevated by abundant amenities—and a few exclusive to Cascades' residents.
Two home styles blend into one united Cascades community. Two-level townhomes—our villas—by Miller & Smith have the ease of luxurious living with an optional basement. And then there are our elevator flats by Drees Homes—stunningly spacious with balconies and wooded views.
Retiring to Cascades at Embrey Mill means you'll have access to our exclusive Cascade Club. Planned amenities include everything you need for fun indoors and out, centering on food, fitness, and friendship. An event kitchen and sundeck with multiple grills will give you great spaces to create delicious treats. A yoga and weight room and nearby Pickleball and Bocce ball courts will keep your muscles active. And the lounge area with fireplace, game room, and oversized chess/checkers board will give you comfortable places to catch up with your friends (aka your neighbors).
Retirement in Northern Virginia is a wonderful choice, but living your retirement in Cascades at Embrey Mill is a second lifetime of adventures. Learn more about coming home to Cascades here.