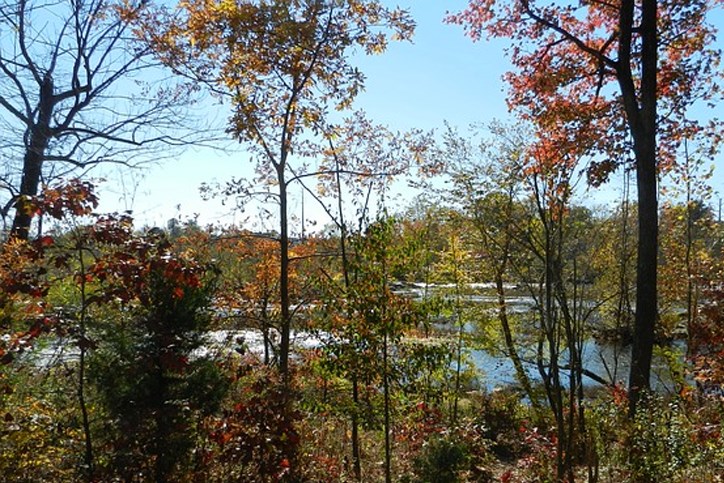 Exploring Historical and Innovative Fredericksburg, VA
Less than 20 minutes south of Embrey Mill is Fredericksburg, VA.
With roots dating back thousands of years—changing and growing through the formation of our nation—Fredericksburg is an iconic place worthy of many adventures.
The name Washington runs deep in Fredericksburg. George Washington grew up right next door near the Rappahannock River, and his mother later moved to the city (with a university and hospital named in her honor).
History paints every hill and valley, and every building and road with long-lasting hues.
And from Fredericksburg's past, grows its future.
Here are some of the best ways you can go exploring historical and innovative Fredericksburg, VA.
Explore historic Fredericksburg
Let's start our historic adventures in Historic Downtown Fredericksburg. Follow in the footsteps of the past as you walk in the shadows of over 350 original 18th- and 19th-century buildings in Fredericksburg's 40-block National Historic District. A hop and a skip from the Rappahannock, Historic Downtown Fredericksburg offers over 100 shops and boutiques, plus delicious chef-owned restaurants. You can also check out the James Monroe Museum and Memorial Library to learn more about our 5th president.
Also in Historic Downtown is the Fredericksburg Area Museum. Found in the old Town Hall/Market House (c. 1816), FAM (as it's locally known) has a multifold mission. Collecting, researching, interpreting, teaching, and preserving the region's history is what FAM is all about. Some items date back more than ten thousand years, as the entire scope of history of the Fredericksburg area is examined and offered as meaningful connections to history.
Down the road from Historic Downtown, you'll find the Fredericksburg & Spotsylvania National Military Park. Miles of trails and guided tours will literally walk you amongst nature and history all at once. Even just visiting the Visitor's Center connects you to the past, as about half of the Battle of Fredericksburg (December 11–15, 1862) took place right outside where the center now stands.
Drive through history all over the area as you follow the African American Heritage Trail. This self-guided driving tour stretches over 75 miles of Fredericksburg's lush countryside and was based on information documented through the support of a Preserve America Grant from the National Park Service. Follow stories of courage and perseverance as you're guided via downloadable brochure or mobile-friendly interactive map through Fredericksburg's past.
An exploration of history is not complete without a stop at the oldest distillery in Virginia. Though it started in Fairfax in 1934, A. Smith Bowman Distillery now proudly lives in Fredericksburg. Family owned, A. Smith Bowman has been creating award-winning bourbon for almost a century—most recently winning "World's Best Bourbon" in 2016 and 2017 at the World Whiskies Awards. Best of all, reservations are currently being accepted for complimentary tours and tastings!
Explore innovative Fredericksburg
As one of the fastest-growing localities in Virginia, Fredericksburg has always prized itself on expanding and pushing the boundaries of what's new. You'll experience it at every turn as you explore the many facets of this great place.
Innovation spurs on a more prosperous city. Fredericksburg placed 23rd (out of 1,268 cities) in WalletHub's 2019 "Best Small Cities in America" list! The Virginia Economic Development Partnership also ranked the region the highest in the state for job growth from 2016-2021. Innovation builds success.
Another way to measure innovation is connectivity, and Fredericksburg has it in spades. Fredericksburg has its own fiber optic cable network. Mainly for city government communications, the network is also used by the area's schools and hospital system. Fredericksburg is also connected via its downtown train station, offering VRE commuter service to Washington, D.C., and Amtrak trains up and down the East Coast.
Then there's Central Park,  one of Fredericksburg's favorite hotspots. We think being the largest shopping center on the East Coast counts as innovative. Explore over 200 retailers and eat your way through an abundance of restaurants featuring everything from standard to global cuisine.
We must end our innovation section with a historically innovative note. In 1958, during a show at the old Fredericksburg Area, guitarist/band leader Link Wray improvised a song that rocked the popular music world (and became "Rumble" once recorded in a studio). Full of feedback, distortion, and power chords (Link was one of the first to experiment with these now staples of rock music), his sound went on to influence such greats as Bob Dylan, Pete Townshend, Iggy Pop, and Bruce Springsteen. And it all started with some innovative improvisation in Fredericksburg.
When you live at Cascades at Embrey Mill, historic Fredericksburg is just a short car trip away. And you'll always have time for adventuring due to the carefree, low-maintenance lifestyle and abundant amenities of Embrey Mill's exclusive Active Adult section. Full of history and innovation, Fredericksburg is fun to explore, but don't forget how happy you'll be coming back home to Embrey Mill.