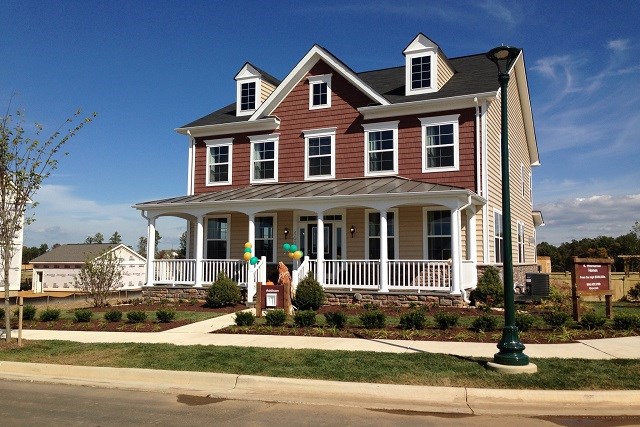 New Homes Guide's 2016 Building Leaders at Embrey Mill
Did you know that the Washington D.C. metro area is home to more homebuilders than any other large metropolitan area? It's true! Because the sheer number of players in this prosperous market may seem a tad overwhelming, New Homes Guide recently published a comprehensive ranking of the industry's top homebuilders in the nation. Their list of the Building Leaders of 2016 helps sort through this essential step in the new home buying process.
While there is a long list of homebuilders present in the Washington D.C. metro area, we offer our new homeowners nothing but the best here at Embrey Mill. In fact, as you may have heard, all of our esteemed homebuilders at Embrey Mill were featured on New Homes Guide's list of the 2016 Building Leaders! Read on to learn a little more about each of our exceptional homebuilders here at Embrey Mill:

Brookfield Residential has been creating some of the region's "best places to call home", in remarkable, amenity-rich communities since 1956. This well-known builder designs their stunning selection of homes with homebuyers and their families in mind. Brookfield's homes feature stylish yet innovative designs with superior energy efficiency built into each and every one of their homes, which provides truly exceptional value.
Brookfield Residential currently offers five distinctive single family home floor plans here at Embrey Mill: Gilberts, Ingraham, Norwood, Oakdale and Parkdale. For more on Brookfield Residential's new homes at Embrey Mill, peruse our Homefinder!

Integrity Homes is another one of our exceptional homebuilders here at Embrey Mill. They offer seven luxury single-family home designs: Avery, Bryan, Chatham, Madison, Randall,  Taylor and Woodly Park. This new luxury homebuilder has a true passion for high-quality homes, as you can see from the stunning designs of their lavish, expansive floor plans. For more on Integrity's collection of new homes at Embrey Mill, browse our Homefinder, or check out Integrity Homes on Facebook.

K. Hovnanian Homes offers homebuyers at Embrey Mill a number of exciting new home designs, and have 50 years of homebuilding experience in the DC metro area alone. This nationally acclaimed homebuilder has built stunning new homes for over 250,000 families since their founding in 1959, and has continued to uphold their title as the "First Name in Lasting Value" with their award-winning homebuilding standards.
K. Hovnanian Homes currently offers 6 single-family home designs at Embrey Mill: Addison I, Colbert, Cooper, Jackson,  Morgan II and Sutton. Check out our Homefinder for more on K. Hovnanian's distinct collection of new homes at Embrey Mill.

Over the past 60 years, Ryan Homes has continued to deliver stunning homes to their new homeowners with innovative, unparalleled designs and features, with quality construction for an affordable price. As the #1 homebuilder in the region for over 25 years, we are excited to offer an exclusive collection of luxury, 3-level townhouses by Ryan Homes here at Embrey Mill! Ryan Homes currently offers two new townhome models at Embrey Mill: Mendelssohn and Schubert.                                                                                                                         

Miller & Smith is yet another of our award-winning homebuilders here at Embrey Mill, currently renowned throughout the community for their stunning selection of townhomes. Although Miller & Smith's luxury townhomes are sold out, they will be back to build at Embrey Mill once again this spring, with a brand-new collection of single family homes to choose from! For more on Miller & Smith's upcoming single family homes, visit Miller & Smith's website.

For more on our stunning collection of new homes by the nation's top-ranked homebuilders, check out our website or stop by Embrey Mill in North Stafford, VA for a visit!
Sources: newhomesguide.com, integrityhmw.com, khov.com, brookfielddc.com, richmondamerican.com, ryanhomes.com, greatamericanlivingawards.com