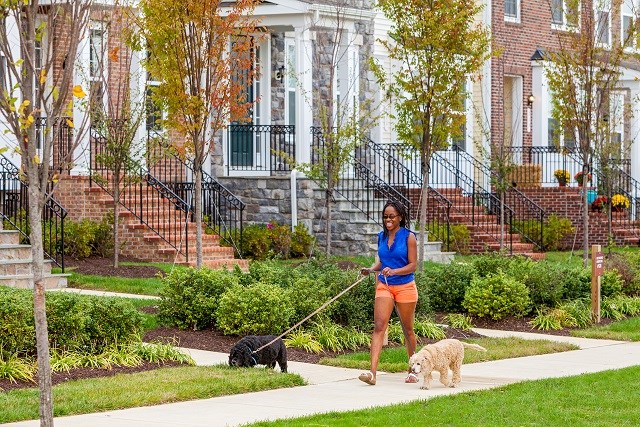 Make Way for Fido
Your pet is as much a part of your family as the human members, so make sure they have a space all their own. Whether it's a dog bath in the mud room, a special shelf for toys and treats, or an entertainment center all their own, a pet suite can go a long way towards making your furry friends feel comfortable in a new home. 
When designing your dream home, you'll want to make sure it fits your family's needs and that means every member of your family, including the furry ones! Custom-created pet suites are the latest in luxury, but you don't have to add an extra wing to the house to make your pet feel welcome in a new home. Creating a space for your pet is as easy as taking their needs into consideration while planning your design.
If you love your pet but not their mess, designating a few rooms in the house as pet-friendly areas means that you can stop worrying about cat hair marring freshly washed laundry or muddy paw prints tracked across the bedroom carpet. Mudrooms are great areas to dedicate to your dog's needs. Hang leashes from the coat rack, organize tennis balls, food and bones on shelves and create a clean-up area for when they come in from a rambunctious run in the park.
If you don't want to limit your pet to certain rooms, create areas in each room that they know is theirs. Design a kitty corner in the living room with a cat tower, scratching post, and a sunny window to curl up in. Organize your kitchen to include pet zones: stowing pet food and treats in a separate cabinet and setting a place for food and water bowls. And a comfy crate or bed ensures that when it's time for lights out, everyone has their own space to grab some shut eye.
If you really want to indulge your pet, there are a few features that can make them feel like king or queen of your castle. A pet washing station turns bath time into spa time with options that include soaker or whirlpool tubs. Ramp-like shelving can turn any room into a kitty jungle gym. And an electronic cat or dog door lets your pet come and go as they please while keeping four-legged intruders at bay.
Embrey Mill's community amenities, including trails and a Dog Park, make it a wonderful place to live with your pet. And with a little extra consideration, you can make your home just as welcoming.