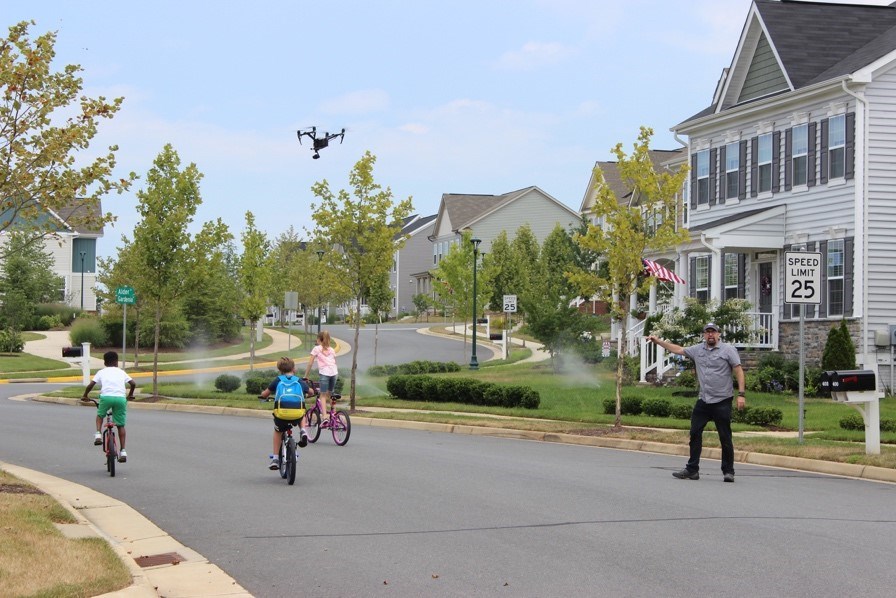 The Making of the Newest Embrey Mill Commercial
What's your best day ever? I bet you've had numerous days over the years that would qualify. And we're not talking about the obvious stuff… wedding day... child's birth. We're talking about good old-fashioned fun from sun up to sun down. A fall into bed wiped out, more fun than humans should be allowed to have kinda day. A "you're gonna need surgery to get the smile off your face" kinda day. Maybe it was a day from your youth. You know, one of those care-free days when you and your best friends rode your bikes forever and beyond only to be called in at dark by your mom. 
With so many families and so many young kids living here at Embrey Mill, we imagine those kinds of days happen often. Our latest video shoot concept depicts just such a day while showcasing all of the amazing aspects of Embrey Mill that could create that Best Day Ever!
The commercial centers around Cade and his two buddies, Brandon and Leah, who are looking for an exciting adventure to get into. The three on-screen best friends make their way around Embrey Mill, even stopping for some fun at the Pear Blossom Trail Head and Embrey House pool.
Scene One
Cade, Leah, and Brandon rolled down Gardenia Drive on their red, purple, and blue bikes as the drone was carefully capturing the scene. It was a typical Northern Virginia summer day and the kids were working extra hard to make sure Jeff, the director, was able to perfect his vision (especially knowing the next scene would involve the nice, cool shade!).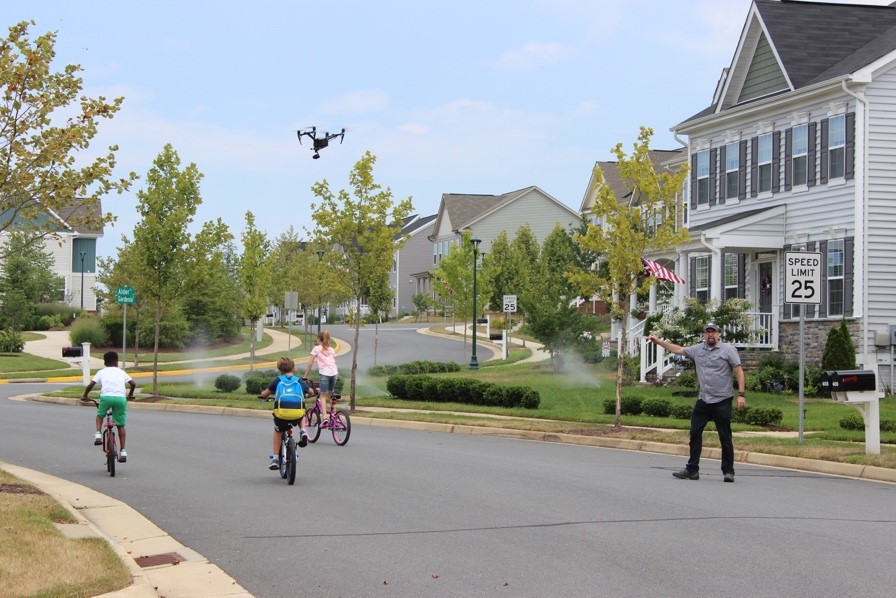 We had the chance to chat with each of the kids in between takes and, we have to say, they were adorable. While Cade and Brandon were from outside of the Embrey Mill community, they were having a blast being a "resident for the day". Leah, on the other hand, was from the community and wasn't too shy to share that her favorite thing about living there was the Embrey House Pool!
Scene Two
After a quick break to rehydrate (trust us, it was HOT!), it came time to travel on over to the Pear Blossom Trail Head. The Hiking Trail scene was up next, which involved the kids riding through the woods as they continued their bike ride journey through Embrey Mill.
When the new commercial airs, you'll see Cade leading the way as they pass his on-screen dad, played by Marco, who was out for a run (the hiking trails at Embrey Mill are perfect for that). Cade yells out "hi, dad!" before exiting the screen, leading us to the next scene…THE POOL!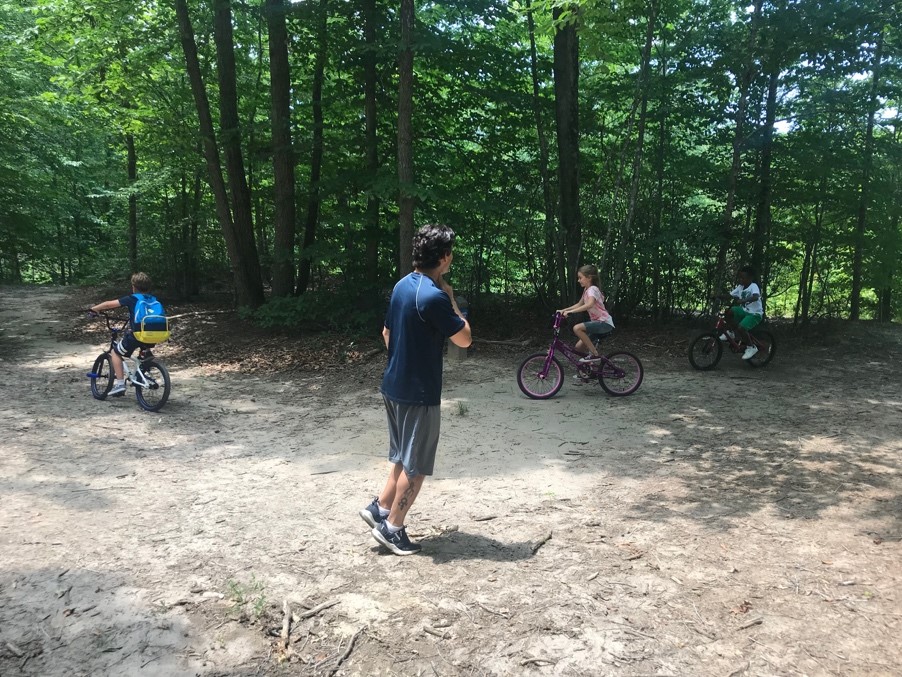 Scene Three
Remember when you were a kid and you used to BEG your parents to take you and your friends to the pool to cool off from the summer sun? We do! Which is why we can't blame Cade, Leah, and Brandon for looking forward to the pool scene the most (I mean, take a look at that awesome splash zone!).
The Embrey House Pool is a hotspot for both parents and kids and is definitely the place to be when school is out and summer is in full swing. Even though they were on the clock (being Embrey stars is hard work!), we could tell they were having a blast splashing each other in the splash zone area of the pool.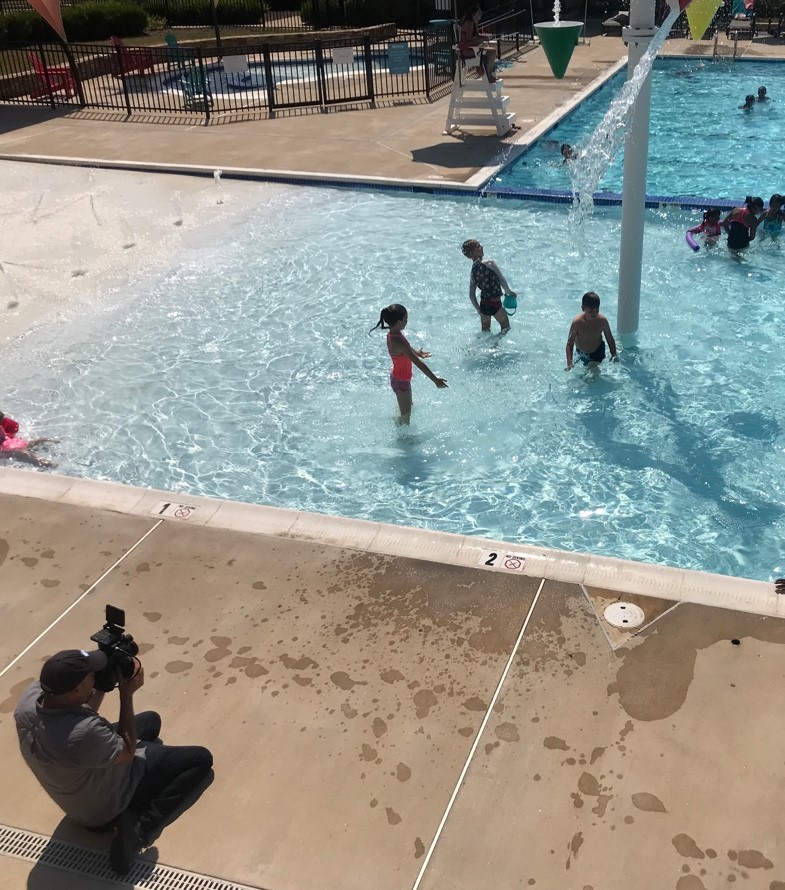 That's a Wrap!
After a bite to eat at the Embrey House's Grounds Bistro & Café, as well as some time to dry off from the pool, we traveled to the next and final scene of the day – Apricot Park. We waited for the sun to start setting before moving forward with filming the fire pit scene, where family and friends gathered to enjoy the perfect summer night under the stars.
So, are you ready to redefine your Best Day Ever? We want every day at Embrey Mill to fit the bill. Start a new story – the opportunities to create new memories with family and friends are endless.
To stay updated on all Embrey Mill events and exciting happenings, check back with us on our blog and tune in to our social media channels.