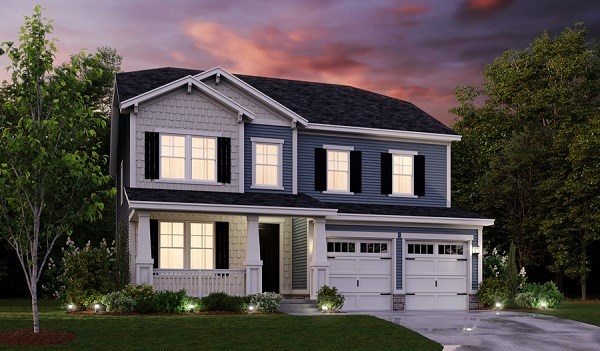 Builder Spotlight: Richmond American Homes
Embrey Mill has something for EmbreyONE, which is why we have only the best builders crafting our wonderful homes. And in this blog series, we're going to introduce you to them all one at a time! Each of our premium builders has their own style and specialties, but every one of them has one thing in common: They all create exceptional homes. So come explore our home builders with us, learn more about their amazing contributions to our community, and discover some of the finest homes they've ever made right here in Embrey Mill. 
This month's builder spotlight is Richmond American Homes. Richmond American Homes brings their expertise to adding single-family homes all over Embrey Mill. Every new home by Richmond American adds a bit of uniqueness to our community, as this building focuses on personalization with many home options to choose from.   
The Richmond American Homes companies have homebuilding operations in fourteen states with a solid reputation for quality and attention to detail. Richmond American champions a "people first" approach, diligently working to set your mind at ease through the entire building process. It's that people first approach that has helped Richmond American complete over 200,000 uniquely personal new homes over 40 years in homebuilding. 
Richmond American homes offer four different home styles in Embrey Mill, and one of the first things you notice when you explore their floor plans is how many times you see the abbreviation "opt." There are so many options available in each home, that each home Richmond American builds in Embrey Mill could be completely unique.   
Let's take a closer look at the floor plan for their Avery model. On the main level, there are options in just about every room. Optional tray ceiling for the master bedroom and great room, optional fireplace in the great room, two deluxe owner's bath options, and an optional gourmet kitchen. And then for a little private outdoor space, you have options for a sunroom with vaulted ceiling and two sizes of deck/covered deck/covered patio.   
In the optional finished basement, you have even more options for a wet bar, fifth bedroom, and plenty of storage. And then on the second level, you get two more bedrooms with the option to convert one into an open loft space. Each room is maximized for living, entertaining, and feeling the comfort that only your home can bring.  
Another big focus of the homes Richmond American builds is energy efficiency. A home's energy efficiency is given a HERS score. HERS stands for Home Energy Ratings System. It's a nationally recognized, third-party system for evaluating a home's energy efficiency. With a HERS score of up to 27% better than most standard new homes, your new Richmond American home will save you money, conserve natural resources, and help the environment. 
All the options, energy efficiency, and innovative home designs combine to form some of the most iconic homes in Stafford County. Richmond American homes flow between rooms for exceptional entertaining experiences, forever-remembered family fun, and quiet midnight snacks when all the world's asleep except you and your ice cream.    
Richmond American Homes provide places to live where everyone in your family can have a special spot, which is why we know they are a perfect builder to make dream homes come true for EmbreyONE. View all the wonderful homes by Richmond American Homes in Embrey Mill right here.  
Richmond American Homes Model Home 
504 Sourwood Court 
Open Daily, 10am – 6pm 
Lois Lawler: 540-548-4435 
Adriana Toth: 540-548-4435