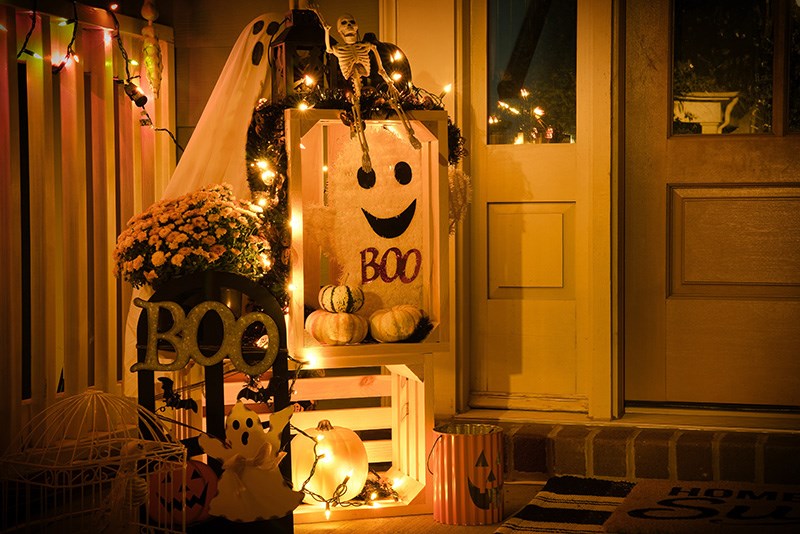 Halloween and Fall Decorating Ideas for Active Adults
Let's be perfectly clear: Halloween isn't just for kids, but it is a great time to channel our inner child.  
Don't think this celebration is only about costumes and candy, though.  
It's also a chance to revel in the changing hues of the season and celebrate the cooler temperatures—all while giving you an excuse to decorate! 
So, to help provide some autumnal inspiration, we've put together some Halloween and fall decorating ideas for active adults to help get your mind into this transitional season.  
Wreaths
Your front door is like the smile to your home—it's one of the first things people see that sets the whole mood. So, a festive wreath can work wonders to introduce that fall vibe to visiting friends and family. Make it out of fake fall foliage or foliage found fallen across Embrey Mill. Add seasonal flowers, baubles, lights, or other autumn/Halloween decorations. It can be as festive or spooky as you like! And you can always just buy a premade one for an instant fall feel.  

 

Garlands


Garlands are just like long wreaths that wrap around columns and porch posts and stair railings. If wreaths are your home's smile, then garlands are outstretched arms waiting for a hug. Garlands are a great way to spread your fall décor across a large part of your house. They can be fake leaves or real dried grapevines; simple splashes of color or bright with app-controlled LED lights. Plus, if you want your fall décor to give back to the environment, you can always make popcorn or bird seed garlands for Embrey Mill's other residents to enjoy!

 

Pumpkins


Pumpkins are always associated with Halloween and fall, but that doesn't mean you can't do something different with them to add your own unique touch. The easiest thing is to just artistically place them around your home. Big ones, little ones, little ones on top of big ones: Pumpkins add an instant aesthetic. And if you want to get more fancy, try painting them instead of carving them. Less mess, and all the decorative delight!

 

Mumkins


This portmanteau makes perfect sense once you learn how to make them. First, hollow out a pumpkin to use as a planter. Then, put a potted mum inside! Instant mumkin. It's a different sort of decoration that perfectly combines a Halloween and fall feel into its own special creation. We bet if you're the first on your street to display a mumkin, you'll quickly see your neighbors making their own.

 

Luminaries


Flickering lights always add instant ambience to any home decoration. Sure, you can just set battery operated candles anywhere, but it's more fun to make them festive. Create your own luminaries by taking a paper bag and cutting out Halloween or fall shapes. Add a little sand or rocks for balance, and then insert your artificial candle. Not only will you now have flickering light, but you'll also have the projection of the shapes you cut out!

 

Mantlepiece decorations


Adding some seasonal flair to your mantlepiece decorations is an easy way to bring the outside in. Any of the previously mentioned ideas can also be displayed on your mantlepiece. This is your chance to transform one of the focal points inside your home into a festive fall or spooky Halloween showstopper. Add some fresh flowers or a DIY pomander (that's the cloves-stuck-in-an-orange thing) to give your mantlepiece décor a bit of natural perfume.

 

Table settings


Architecting a Halloween or autumn table setting can be a big undertaking, but also very worth it. Picking out the fabrics to complement special seasonal tableware, arranging all the dishes and utensils into just the right locations, and building the perfect centerpiece to bring it all together are just some of the decorating adventures you can look forward to. 

 
Once you've decorated for Halloween and/or fall, what next? Well, you can, of course, just revel in your grown-up seasonal embellishments, or you can host a dinner party to show off all your hard work. Make it "no-kids-allowed" fall or Halloween theme, invite your guests to dress up (either in costume or just nice), and enjoy seasonal favorites, specialty cocktails, and great conversation. And if you want to go that extra step, maybe end the evening in a fall tradition: spooky stories around a fire!