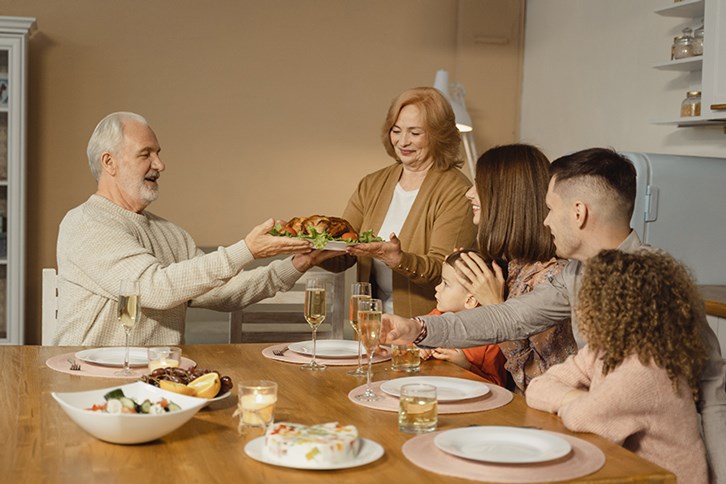 How to Enjoy an Active Adult Thanksgiving
Being an active adult during Thanksgiving is the perfect time to reinvent your celebration of this family-oriented holiday. 
Be it bold or be it traditional, this is a chance to recraft the holiday to make it more about the things you want. 
Your Thanksgiving can look just like the classic Norman Rockwell painting, or it can be friends painting sunsets together sipping wine.  
It is your Thanksgiving.  
Here are some tips for making your Active Adult Thanksgiving something to be really thankful for for years to come: 
Create New Traditions & Find New Recipes


Thanksgiving as an active adult is an opportunity to have a new beginning. Think back to all the Thanksgivings of your past and those you've seen in movies and TV. Pick the traditions and recipes that looked fun and meaningful, and combine them with your favorite Thanksgiving memories. Maybe what you've always wanted is baked salmon instead of turkey—and you have just the recipe you've been perfecting. Or maybe a potluck feels more your style, where each guest brings their own favorite dish, so everyone is guaranteed something they like to eat. Or maybe you've wanted a Thanksgiving where everyone shows up for dessert and a movie

after

the main meal, so it's less of a production and more of a casual celebration. The point is this holiday now 100% belongs to you and can be turned into whatever makes you feel the most thankful.

 

Use Technology to Connect Instead of Traveling


As Thanksgiving approaches, we he

ar

more and more from the media how many millions of people will be traveling, clogging airports and roads alike. In the past, other than a telephone call, traveling was the only way for family to see each other. But as we've learned over the past few years, video chatting is a powerful tool to connect people all over the world.

You can now easily s

ee and speak with your family wh

il

e everyone is in the comfort of their own homes. But take it a step further:

U

se video chat to share stories with the next generation or cook recipes simultaneously. You could, technically, even have a full Thanksgiving meal together through video chat. It's your holiday

.

You make the rules!

 



Make Food Ahead of Time


To make

Thanksgiving

easier on yourself

, prepare as many dishes

(or parts of dishes)

as possible before the big day

. This might take a little planning and some new recipes, but

the rewards will be well worth it. This will also allow for more guests to help with feasting preparations, as it's much easier to warm something up than to cook it from scratch!

And, in the process, you'll have more quality time to

actually spend

with your guests instead of hiding away in the kitchen cooking

and missing all the fun

.

 




Create a Sleeping Plan

in Advance




Just like making as much food as you can ahead of time, you don't want to leave the sleeping arrangements for guests until the moment they arrive. Plan everything in advance. Make sure each guest will have a nice place to sleep, some space for their luggage, as much privacy as possible, and, most importantly, easy access to a bathroom. Also, ensure that however you space out your guests, there's still easy room for the feast and party to come. That is, don't load the dining room with sleeping bags only to realize there's not enough room to eat!

Make It All About the Next, Next Generation


You've had many Thanksgivings and have worked to make each one with your children special. But now there are grandkids—the next, next generation—and now is the time

to

really involv

e

these young family members

in the holiday. Have them help with picking the menu, decorating the table, and any other step of the event that will get them more involved and thankful for your time together. Don't banish them from the kitchen and relegate them to the kids table: make the day about how happy you are to be and

cook and

eat and love

together.

 

Have a Friendsgiving Instead


Thanksgiving is more than just a meal with family, it's about

looking into your heart and celebrating the people you are closest to.

And that includes your friends—aka, the family you

choose

to have

.

Imagine how fun it would be

to e

njoy a special meal

with your related family on Thanksgiving, and then have a second

one

the next day with your

friend

family. Or, if your related family can't

get together for Thanksgiving, just have a Friendsgiving instead! The important part is that you are

with people you care about, eating good food, and being happy. Because really, that's what the holiday is all about.

 




Fight Thanksgiving Exhaustion

with

a

Stroll


The amino acid found in turkey, t

ryptophan

,

normally gets the blame for making everyone feel so tired after their Thanksgiving feast. But really, it's just a normal reaction to our bodies digesting all the additional (and delicious!) fats we eat during such a big meal. So, wake your body up

, get active,

and burn off some of those

holiday calories

by taking a

walk

.

Get your blood flowing and head out into your community. An impromptu turkey trot, if you will, is just the thing to ward off the sleepies and you might also be able to introduce your f

amily to all your neighborhood friends too!

 



Thanksgiving is a time of coming together and a time to celebrate community. With a carefree, low-maintenance lifestyle and abundant amenities, Cascades at Embrey Mill, our exclusive Active Adult section, is a special place. Stroll our miles of trails. Socialize at our private Cascade Club. Enhance your meals with fresh vegetables and herbs picked at our community garden. You'll love how quickly neighbors turn into friends and your community becomes like family. Hopefully, these Active Adult Thanksgiving Tips will prove helpful in making this a holiday you're even more thankful for. Happy Thanksgiving from all of us at Embrey Mill!