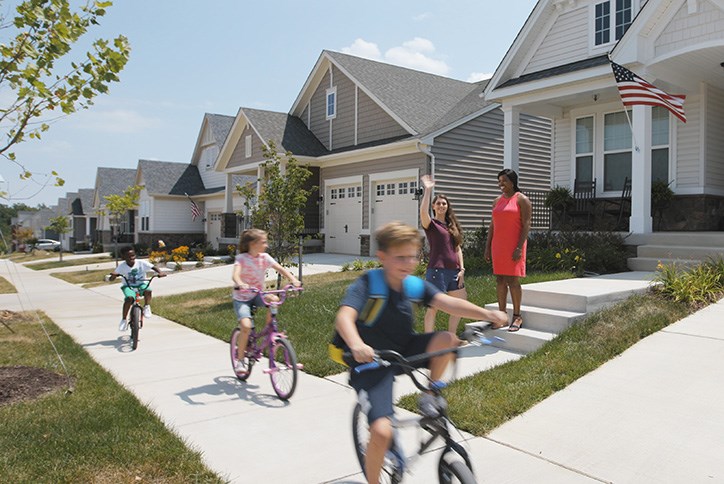 New Year, New Home at Embrey Mill
As the pages turn on another year, it's time to not only look back but also gaze forward.
Forward into the bright future that awaits, and the new home that beckons.
Forward into a new year in a new home in a community that welcomes you with open arms and lots of fun surprises.
Get ready to experience everything amazing the new year has to offer from your new home at Embrey Mill.
But what can you look forward to in your new year here? A stress-free lifestyle that is only available at Embrey Mill.
Community
Embrey Mill is not just a community of homes, but a community of people. That sounds simplistic to say, maybe even a little corny, but it's so true. It's a place where children can play and make friends next door and down the street—and so can parents.
From the day you move in, you'll make new friends living in the homes around you. And this isn't just a "awkwardly wave to them every few days" sort of friendship. This is a "know their names, their likes, and their history, and actually want to spend time with them on the weekends" sort of friendship. It runs deep.
We're also a community that comes together for fun and to look out for each other. For example, as we're just down the road from Quantico, many military families call us their home base. It's about 67% of our population, in fact, which means Embrey Mill knows how to offer that extra support military families need to make them always feel connected and at home.
Amenities
Embrey Mill's amenities are the threads that knit together our flourishing community. They provide a constant stream of enjoyable things to do, without every having to leave.
Your new year in your new home will join you to the heartbeat of our community: Embrey House. This clubhouse (just one in our neighborhood) features our fitness center, one of our pools, and the Grounds Bistro & Café! Grounds is the perfect place to socialize and unwind, and to celebrate that first toast of the new year at our outdoor kitchen and patio.
The outdoors at Embrey Mill really come alive, with over 285 acres of open space, 15+ parks, and 10 miles of trails integrated throughout the community. Your New Year's healthy resolutions will be easy with so many reasons to get out and play, including a community garden for fresh herbs and vegetables, and a dog park to keep Spot fit!
Schools
Starting your new year at Embrey Mill means your family is never far from excellent academic and higher learning opportunities. Our many area schools are very highly rated.
Indeed, the Stafford School District has a graduation rate of 92% and is one of the most regarded systems in the Washington, D.C. Metro Area. Wonderful schools is one thing, but having those wonderful schools close is even better!
Embrey Mill has two proposed onsite Stafford District schools, which would put an elementary school and a middle school right inside our community. That would mean your new home would be just down the street from your kid's new school, making even more feel right at home.
Events
There's always something fun happening in the Embrey Mill community. Often, it's your own plans to meet friends and neighbors for a bike ride or stroll around one of our many parks.
But sometimes, it's a planned community-wide event that will let you enjoy each year at Embrey Mill. We all love eating and drinking at Grounds Bistro & Café, but sometimes there's more to experience here like live comedy or music performances. Or enjoy a Karaoke Night, if you're brave enough!
We also coordinate events that help the greater community around us. Our annual Halloween 5K and Monster Mile run last year benefited Project Lifesaver—a program that helps locate family members with memory or cognitive disorders who have wandered off. There's also the Frosty 3 Miler and Reindeer Run, which this year raises money to help Gwyneth's Gift Foundation promote the importance, awareness, and knowledge of CPR and AEDs to help save lives.
New Homes for Every Lifestyle
All of us our different, and yet there's a home for everyone at Embrey Mill. With a diverse range of styles and home types—including single-family, townhomes and single-level living—a new home here means a life where your family can live in ways that matter most to them.
We have a wide range of the area's best builders crafting our wonderful homes. Each of our premium builders has their own style and specialties, but every one of them has one thing in common: They all create exceptional homes full of space and warmth and light and all those things that make you feel at home.
Plus, we have an exclusive Active Adult section called Cascades at Embrey Mill. With a carefree, low-maintenance lifestyle and abundant amenities, Cascades residents can enjoy all the wonders of the greater Embrey Mill neighborhood, but also a few age-restricted amenities, like the private Cascade Club and its sports courts, event kitchen, yoga & exercise rooms, sundeck and grills, fire pits, and more.
Embrey Mill is where EmbreyONE can find their perfect new home. A neighborhood where "neighbor" means the same as "friend." And a community where staying home is more fun than leaving. As the new year approaches, discover your new Embrey Mill home today!