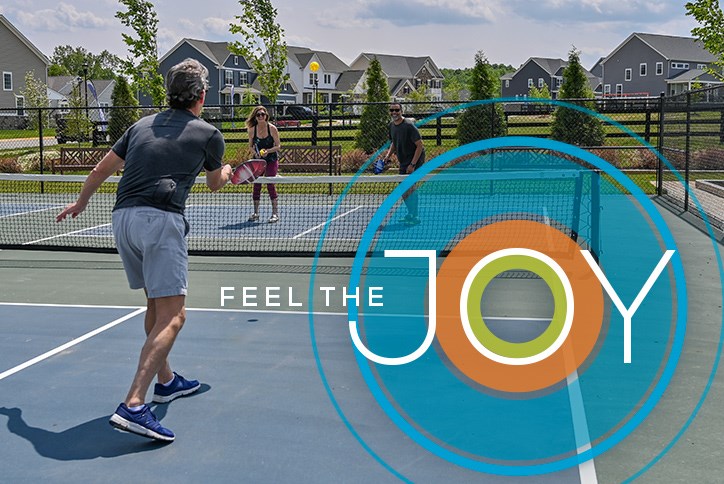 Cascades at Embrey Mill: Perfect for Active Adults
It's your time to shine!
Your time to start doing all the things you've been waiting for, go on all the adventures you've been dreaming of, and have the perfect community to call home.
And that's why we built Cascades at Embrey Mill, our 55+ active adult section, to celebrate all the wonderful things you can do now that you're old enough!
It also provides a wonderful location that champions your active lifestyle today and tomorrow: your active adult forever home!
But what makes our new-construction homes so perfect for 55+ active adults?
Let's take a look inside and out!
One-level Living and Open Floor Plans
Keeping life on one level is a great boon for active adults: It saves time from running up and down the stairs. Less time on stairs means more time for all the fun stuff. It makes it easier to get around your whole house without expending any extra energy.
Imagine having a strenuously enjoyable afternoon at the Cascades Club, for example, hitting the weight room and then playing (and winning!) a few games of pickleball. You had a small dinner with your pickleball partner and now just want to head to bed. Living on one level means you can just walk through your home and right into your owner's suite. No stairs, no muss, no fuss.
Likewise with an open layout, that means more room to maneuver around as you travel through your home. No tight spaces or cramped corners. And so much extra space when you wish to entertain. You won't have to worry about moving furniture to accommodate wheelchairs or baby strollers or all your guests. Everyone will have the space they need to enjoy the party!
Low-maintenance Living
Just like not having to worry about stairs to get around all the main rooms of your home, not having to do as much upkeep on the outside of your home is equally as important. It not only saves you precious time, but it also allows you to have more "you time." Instead of stressing over yard work and outdoor maintenance, you can focus on decorating the inside of your home exactly the way you want it.
Gone are the days of spending endless hours mowing the lawn or pulling out weeds. With a low-maintenance living arrangement, you can bid farewell to these tedious tasks and embrace a life filled with leisure activities and personal interests. Just picture yourself indulging in hobbies like painting, reading, or even taking up a new sport all because you no longer have to worry about maintaining your outdoor space.
Not only does low-maintenance living save you time, but it also grants you the freedom to fully personalize the interior of your home. Rather than fretting about exterior repairs or upkeep, you can channel your creativity into designing the perfect living space indoors. And if you want to decorate outdoors at a smaller scale, every new home in Cascades comes with (or with the option) for a private, covered outdoor space or two, perfect for small container gardens.
Smart Tech and Energy Efficiency
Smart technology and energy-efficient homes are revolutionizing the way active adult homeowners live. With these innovative advancements, life becomes easier, more convenient, and sustainable.
Smart devices now enable homeowners to control their environment effortlessly. From voice-activated assistants that dim the lights and play music to automated thermostats that learn your temperature preferences, these technologies create an effortless living experience for active adults. But it's not just about convenience; energy efficiency plays a crucial role too. Energy-efficient homes help reduce utility bills and minimize our impact on the environment.
For active adult homeowners who value sustainability and simplicity, smart technology and energy-efficient homes are game-changers. These innovations provide a seamless integration between technology and daily living, allowing individuals to enjoy a comfortable and eco-friendly lifestyle. With smart technology at their fingertips, you can focus on pursuing your passions and enjoying all that life has to offer.
Easily Accessible Storage
Having easy access to storage is also extremely important for active adult homeowners! Gone are the days of searching high and low for your favorite sweater or that important document. Thanks to easily accessible storage, you can keep all your belongings neatly arranged in designated spaces. This means no more stress or wasted time trying to locate things when you're in a rush. It's like having your own personal assistant, but way better!
Not only does accessible storage save you time and energy, but it also frees up valuable space in your home. Say goodbye to crowded living areas and hello to open and airy rooms. You'll feel like you've gained an entire extra room just by implementing smart storage solutions. Plus, with everything organized and within reach, you'll feel less overwhelmed and more at peace in your own space.
The Miller & Smith Villas in Cascades have a storage area on the second floor, along with two more bedrooms and loft space. Plus, this home style is available with a walkout basement that provides not only more area in which to live, but also an additional large storage room. Drees Homes Elevator Flats also offer plentiful storage with large walk-in closets. And, they also include a storage unit near your garage for even more room to keep your stuff.
Getting It Right Underfoot: Floors & Showers
Having one type of flooring throughout your home can be a real game-changer. Not having to transition from one floor type to another in every room makes gliding through your new home easier. Putting the groceries down in the kitchen before strolling to the family or great room to make sure the decorations are set for the party later that night without having to worry about stepping from hardwood floors to carpet makes entertaining a dream.
Not only does having just a few forms of flooring eliminate the hassle of transitions and reduce the chances of accidents, it also adds a touch of elegance and unity to your living space. The seamless flow creates a sense of harmony, making your home feel more spacious and organized. You don't need to be an interior design expert to see the beauty in consistency and simplicity. With just one type of flooring in your main living spaces, you can create a cohesive look that will leave everyone impressed.
And let's not forget about easy-to-access showers! Having a shower that is easily to step into makes bathing so much simpler. No more struggling to climb into a bathtub or stepping over high ledges. Instead, you can just walk right into the shower without any hassle. It's convenient and ensures that bathing remains a stress-free experience.
Lots of Light
Having a home with lots of light and windows is an incredibly important consideration, especially for active adults buying a new-construction home. Ample natural light makes all the difference in a home: It not only helps us see better but also creates a warm and inviting atmosphere.
Natural light can be your partner as you enjoy a first cup of coffee in the morning, waking up with you, as you sip in your living room or on your private outdoor space. Everything feels more vibrant and alive in the sun. And it's not only light you're bringing into your home, but also beautiful views of Embrey Mill.
Moreover, having an abundance of light in your home can have tremendous health benefits. Natural light has been shown to improve mood, increase productivity, and regulate sleep patterns. It's a simple yet effective way to enhance both your health and your feeling of home.
The Most Important Thing: Living in the Right Community
Community is the most important thing a new construction home can bring to those active adults. It's not just about finding a nice house; it's about being surrounded by friends and even possibly family members. Consider the joy of having your children and grandchildren living nearby in the all-ages section of Embrey Mill, where you can easily connect and enjoy each other's company. And on the flip side, how comforting would it be to have your parents or grandparents residing just down the road? It's these connections that make life truly special.
Having friends and loved ones nearby creates an instant support system that enhances every aspect of our lives. Whether it's sharing laughs over coffee at Grounds Bistro & Café, going for walks together on our many trails, or simply knowing that loved ones are always close, living near friends and family makes daily routines feel more vibrant and meaningful, creating a sense of belonging and unity.
Cascade's private amenities—including the Cascades Clubhouse, yoga & weight room, and bocce ball courts—combined with Embrey Mill's "all ages" amenities—pools, parks, dog parks, and more—contribute greatly to a sense of community. So, when you want to find your 55+ active adult forever home (or introduce one to your parents or grandparents), come to Embrey Mill—and Feel the Joy!