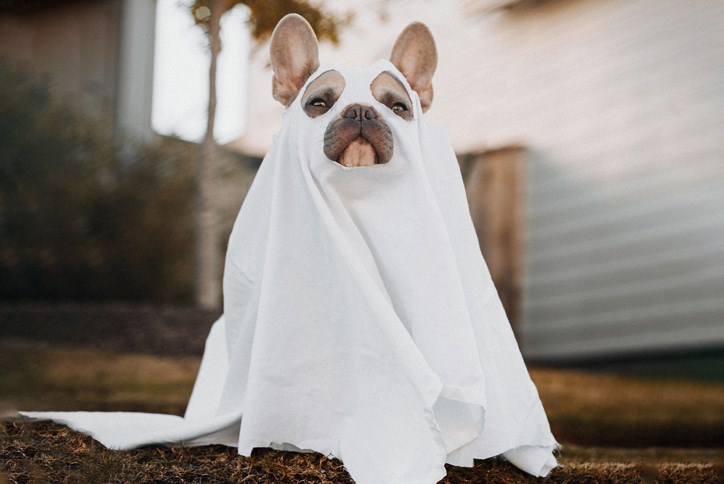 Fun & Spooky Halloween Events Near Embrey Mill
Pumpkins are getting ready to split their seams into smiley-faced grins.
Costumes are being put together.
Large bags of candy are stockpiled, and big bowls are being found.
And the crunchy sound of the wind through autumn leaves heralds the spooky time to come: Halloween is almost here!
But what to do when Halloween returns? Where to go and what to see?
Fear not, trick-or-treaters, we have found some fun and spooky Halloween events near Embrey Mill.
Get ready to have a scary good time!
Boos & Brushes: Spooky Door Hanger Workshop
Embrace the Halloween spirit a little early on October 8, 12–3pm, for a Boos & Brushes: Spooky Door Hanger Workshop at Full Distance Brewing. This unforgettable DIY Halloween decor workshop lets you enjoy your favorite draft beer while getting creative!
It doesn't matter if you're a seasoned artist or someone who just wants to have a blast celebrating Halloween in a unique way: This workshop is designed for all skill levels. Step Full Distance Brewing's spacious and inviting brewery where delicious food and ice-cold beer await you as you dive into the step-by-step process of creating your very own door hanger.
Maybe your door hanger will grace your front door, welcoming trick-or-treaters on the big night. Maybe it will make the inside of your Embrey Mill home more festive. The choice is up to you! With paint, stencil, ribbon, and various techniques at your disposal, the possibilities are endless. Plus, they'll be prizes awarded throughout the event. Time to have some fun preparing for this spooky holiday!
Fredericksburg Pet Palooza
Head to the Fredericksburg Expo & Convention Center on October 21 and 22, for a weekend full of fun and excitement at the Fredericksburg Pet Palooza! There's something for everyone in the family here, and yes, even your furry friends are invited.
At the expo, you'll have the chance to discover the latest and greatest pet merchandise, treats, toys, and so much more. And since it's right before Halloween, you're sure to find costumes and costume accessories for your four-legged friend too!
But this event isn't just about shopping; it's also an opportunity to make a difference in the lives of pets in need. By attending the Fredericksburg Pet Palooza, you'll get the chance to meet some amazing organizations dedicated to rescuing and finding forever homes for their lovable animals. And maybe you'll even find your new furry best friend.
Halloween 5K and Monster Mile
Once again, we invite you to wake up early and stretch your legs at our spooktacular Halloween event. Join us on October 28 for the 8th annual Halloween 5K and Monster Mile! The 5K is for everyone, but the Monster Mile is just for kids aged 12 and under. Costumes are highly encouraged. They not only make the run more fun, but they might also win you a fun prize! 
By participating in this exhilarating race, you'll also be supporting a worthy cause. The proceeds from this event go towards Project Lifesaver with the Stafford County Sheriff's Office. This incredible program focuses on search and rescue operations for individuals who are prone to wandering due to a cognitive condition. Help make a difference in someone's life. 
Get your running shoes and costumes ready, gather your family and friends, and get ready for a hauntingly good time at the Halloween 5K and Monster Mile. A group from SLAM (Sweat Like a Mother) Quantico will be on hand showing some fun ways to stay fit. And for an extra treat, if you register before the October 10 deadline, you'll receive an awesome long-sleeve t-shirt and a custom finisher's medal. At the end of the race, glory and greatness await you – and a delicious donut!
Embrey Mill Pumpkin Party and Sweet & Treat Model Home Tour
On October 28 between 10am and 1pm, head to our Cascades Clubhouse to marvel as a Professional Pumpkin Carver turns 3–4 large pumpkins into intricate works of Halloween art. And pick up your Sweet & Treat Model Home Tour Passport, which will get you walking through our wonderful community and exploring our spellbinding model homes.  
 
Two models are in our 55+ active adult section and two are in our all-ages section, meaning this is a great opportunity to introduce friends and family who are looking for a new home to Embrey Mill! Get your passport stamped at all four model homes, return it to the Cascades Clubhouse by 1:00pm, and you'll be entered to win exciting prizes, including
the professionally carved pumpkins!  
 
Enjoy time with your neighbors, warm beverages, and festive goodies as you get into the festive fall—and Halloween!—spirit! 
Backyard Soirée
Downtown Greens is a beautiful nonprofit greenspace and gardens in Fredericksburg open to everyone who wants a little natural oasis in the middle of Downtown. On Saturday, October 28, from 5–10pm, head to the Greens for a Backyard Soirée.
With live music, delectable hors d'oeuvres crafted by the talented team at FoodE, cozy fire-pits, and the incredible Suzie Anker mixing up your favorite cocktails behind the bar, this event is bound to be a hit. Get ready to groove along with Harry Wilson, Eddie and the Peacemakers, Gaye Adegbalola, and Ladia as they take the stage and fill the night with electrifying performances.
But that's not all! Take part in a thrilling silent auction and strike a pose at the Oddbox photo booth, capturing memories that will last a lifetime. Each General Admission ticket includes one free drink ticket, and there's even a VIP package for those who want more (private fire pit, s'more's kit, and extra drink tickets). You'll not only have a blast at this remarkable event, but also contribute to raising vital funds for such an important community greenspace.
Halloween Dance Social 
But if dancing is more your scene, spend the evening on Saturday, October 28, at the spookiest and most thrilling event of the year: the Halloween Dance Social at Strictly Ballroom Dance Studio! Enjoy a dance showcase, learn some Tango moves, and then hit the dance floor.
The party starts at 7pm, but come about 15 minutes early to sign in and warm up. Beginner and intermediate dance lessons are followed by a fantastic mix of Ballroom, Latin, & Swing music for open dancing until 10pm. It's the perfect opportunity to practice what you've learned, mingle with fellow Halloween lovers, enjoy some tasty snacks, get active, and have an absolute blast!
And don't forget your costume. This is a Halloween dance, after all! Show off your creativity and join our highly anticipated costume contest. With categories like Scariest, Funniest, Most Original, and Best Ensemble, there's a prize just waiting for you to win. And nothing says Halloween like bringing home a prize because of your costume!
Trick-or-Treat at Embrey Mill
Embrey Mill is the perfect place to live for those who enjoy Halloween festivities. With a wide range of fun events happening nearby, the only challenge is deciding which ones to attend. Additionally, many of these Halloween events near Embrey Mill offer the opportunity to win exciting prizes.
One activity that should never be missed, however, is trick-or-treating around Embrey Mill. It promises to be a frightfully good time full of candy, neighbors, friends, and spooky holiday cheer. Gather your friends and family, put on your scariest costumes, and find adventure this Halloween season!