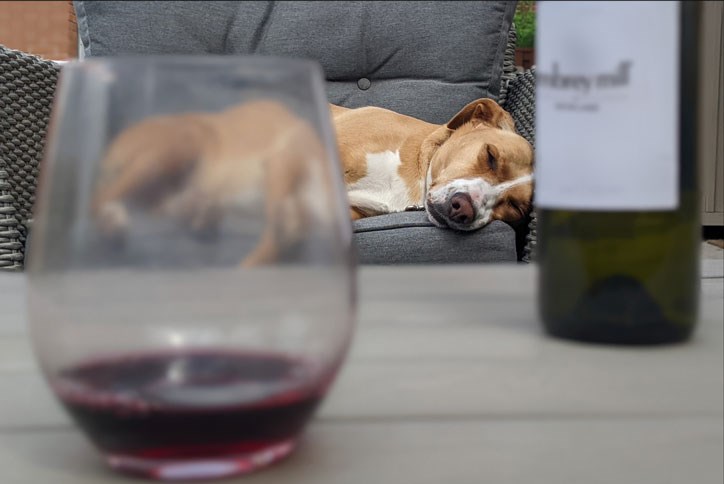 Kid- and Dog-Friendly Breweries and Wineries near Embrey Mill
Nothing beats a cold brew or a great glass of wine in a beautiful location on an afternoon in late summer or early fall.
Well, one thing does: sharing that relaxing afternoon with your whole family, including kids and dogs.
With so many breweries and wineries in Virginia, you'd think that'd be easy. But not every brewery and winery is the same.
We want all your afternoons to be glorious, so here's a list of some of our favorite kid- and dog-friendly breweries and wineries near Embrey Mill.
Strangeways Brewing
Strangeways Brewing is just down the road in Fredericksburg (and three other locations throughout Richmond and Williamsburg). Serving over 36 beers, Strangeways Brewing knows how to keep the whole family having fun with a specially picked selection of delicious snacks including Giant Warm Bavarian Soft Pretzels.
Their outdoor Biergartens welcome your four-legged family members and their many events make sure even the youngest in your family has fun. The various locations host best burger competitions, Dungeons & Dragons nights, trivia contests, live bands, and other events. Stop by in your superhero costume on October 14 for the John Hardy Superhero Celebration. They'll be crafts for your kids, light snacks, and all the proceeds benefit the Fairy Godmother Project helping families dealing with pediatric cancer.
The Estate at White Hall Vineyard
Vineyards take time to become successful: time to cultivate the land and the grapes, and grow roots into the community. The Estate at White Hall Vineyard has done just that, lovingly caring for their product while also supporting those around them. 
It's a short drive from Embrey Mill into the country east of Fredericksburg, but it's well worth it. Travel to the hills and trees into lands that have been used as a paradise since 1740, with buildings stretching back over 100 years. Enjoy tasting rooms and areas that welcome well-behaved children and leashed four-legged family members.
Delight in a variety of food trucks, pop-up shops, live music, authentic Spanish Sangria, and wine slushies. Stop by for a local book club, find a new favorite wine, and get ready for seasonal events such as a Halloween Trivia & Costume Contest. And even better, know that The Estate at White Hall Vineyard really does care about their community, supporting local King George non-profit organizations and school teachers. And nothing says "family friendly" more than supporting teachers!
Highmark Brewery
When a group of friends get together with a good beer, it's always a good time. When those same friends start brewing their own beer and taking it to the next level… well, that's when a place like Highmark Brewery is born. With friendship brewed right in, Highmark brings great flavors to a table waiting for you just outside of Fredericksburg.
Here, expertly made brews, food trucks, live music, trivia contests, and more all combine to create a family-friendly atmosphere that instantly makes you feel at home. Plus, Highmark Brewing has an arrangement with the local Schlund Family Farm. Highmark's spent grains go to feed Schlund's livestock, and the farm offers some of their meat products at the brewery! Fresh, connected, relaxed, and all "in pursuit of happiness" — that's Highmark Brewery's way!
Full Distance Brewing
Embrey Mill is a welcome home to the area's military families, which is why we like to support veteran-owned local businesses. Having just had their grand opening this May, Full Distance Brewing is waiting for you just a couple minutes outside the Marine Corps Base Quantico.
Putting his Marine and Ironman training and dedication to good use, Full Distance Brewing's owner pursues the same amount of dedication to his brewing as he did to his service. A wide variety of award-winning flavors—from light to hoppy—are ready to be enjoyed as you listen to live music and eat up tasty treats from local food trucks. Your family can sit inside or out on Full Distance's patio (a great place for an early fall adult beverage).
And don't forget to save the date for Full Distance Brewing's Octoberfest on September 30. It's going to be a fantastic Stafford spin to the world-famous Bavarian event.
Lake Anna Winery
Near the second largest lake in Virginia, southwest of Fredericksburg, is the beautiful 76-acre Lake Anna Winery. Another destination excursion, Lake Anna Winery is one of the most kid- and pet-friendly wineries just because of its location. Sure, it has award-winning wines, breathtaking views, tastings, special events and tours. But by being so close to Lake Anna, there's also the opportunity for swimming, boating, fishing, hiking, and all sorts of other outdoor activities one enjoys at a lake.
Which makes Lake Anna Winery a great place to visit for an entire weekend instead of just one afternoon. Camp out at the lake or stay in a nearby B&B or hotel and take in every sight and experience Lake Anna has to offer. Just don't forget a trip to Lake Anna Winery for some delectable rich reds, dry whites, and sweet fruity specialty wines. Your family will toast you for planning out this adventure!
Right Here at Embrey Mill
Of course, though it's not a brewery or winery, one of the best places to enjoy an adult beverage is on the patio of our very own Grounds Bistro & Café. Just down the road from your home and on one of our many trails, nothing beats sitting outside in Embrey Mill, watching your kids play, and having your neighbors stop by to say hi and pet your dog.
It's just one of those things that makes the Embrey Mill community so special. You know what makes it even more special? Having that drink and then walking with your family to one of our fire pits for a DIY s'more!