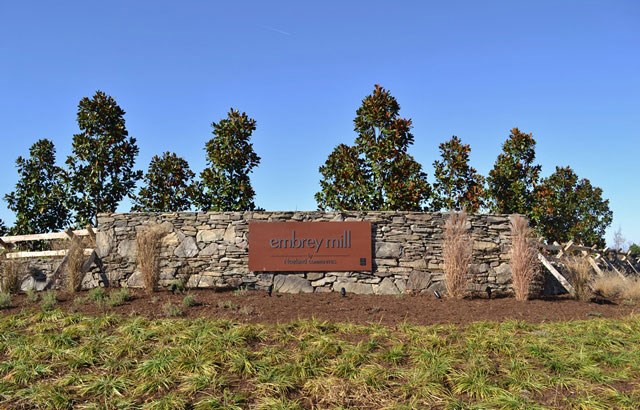 Embrey Mill, an 831-acre New Home Community Announced in North Stafford
Rendering: The Embrey House includes an olympic-sized pool.
Construction is currently taking place, with roads in the first phase already completed. Embrey House, the community's primary gathering place for the first phase neighborhood, is also under construction and will feature a café with outdoor patio, concierge service, swimming pool, playground, and a sports court. Embrey Mill is scheduled to open mid-Summer 2013. For more information, please visit www.EmbreyMill.com and follow us on Facebook and Twitter.
About Newland Real Estate Group, LLC:
Newland is a diversified real estate company leveraging a national platform and over 40 years of experience to perform challenging and diverse development, investment, management, and advisory services across a wide range of real estate. The company's mixed-use development business, Newland Communities, actively owns, operates and develops premier residential master-planned, commercial, retail, and urban mixed-use real estate across the U.S. Headquartered in San Diego, Calif., Newland and its affiliated companies have completed, or have underway, more than 140 diverse real estate developments, more than 20 million square feet of commercial and retail space, and 175,000 residential units in 14 states. www.newlandco.com
About NORTH AMERICA SEKISUI HOUSE, LLC (NASH):
NASH was established in 2010 as the U.S. business operations unit and a full subsidiary of SEKISUI HOUSE, LTD., Japan's largest homebuilder and a leading diversified developer since 1960. SEKISUI HOUSE, LTD. has built more than two million houses to date and expanded its operations to Australia, China, Singapore, and the U.S.  NASH establishes joint ventures to build innovative and sustainability-conscious master planned communities across the US. NASH is headquartered in Arlington, Virginia.  http://nashcommunities.com/. The Embrey Mill development joint venture is one of NASH's consolidated subsidiaries in the US.
SEKISUI HOUSE is headquartered in Osaka, Japan. https://www.sekisuihouse.co.jp/english/index.html.