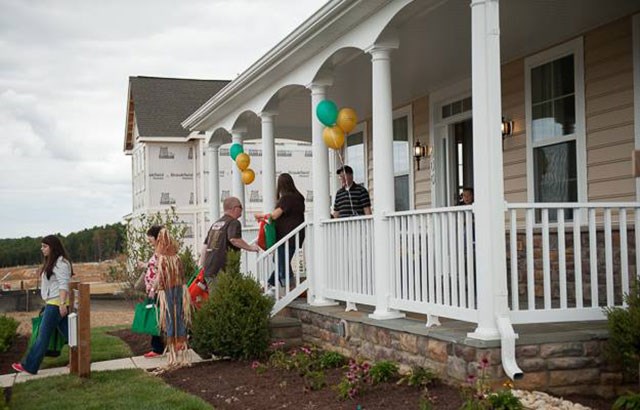 Stafford Looks To Embrey Mill To Continue County's Record Growth
NORTH STAFFORD, Va., Sept. 23, 2013 /PRNewswire/ -- Upon opening on September 28th, Embrey Mill, an 831-acre master-planned community in North Stafford, Virginia, is expected to become a major driver of Stafford County's record economic growth. The highly anticipated community brings jobs and new homes to a region experiencing a surge in population and commerce.
"This opening is great news for Stafford County," said Garrisonville District Supervisor Ty Schieber. "Embrey Mill is helping drive Stafford's current economic development by creating construction jobs, while also addressing the region's long-term housing needs as the county continues its track record of attracting high quality businesses that offer residents family sustaining salaries. The involvement of a national developer like Newland Communities makes clear that homebuilding is back on the upswing in the region."
According to the Washington Business Journal, Stafford's record growth is being driven by the county's reduced business taxes and regulations, and by the relocation of 3,000 defense jobs through the BRAC realignment. With nine models and a plan for 1,827 homes at build-out, Embrey Mill is positioned to meet this robust demand head-on.
Embrey Mill couples its large scale with innovative home designs that respond to a new era of homebuilding. Newland's extensive research and "builder bootcamp" has yielded exclusive plans that reflect the needs of today's buyers, including open layouts and features like first-floor owner's suites, breezeways to sunrooms, wraparound porches, and oversized garages and mudrooms. The builder team, consisting of Atlantic Builders, Brookfield Residential, Integrity Homes, K. Hovnanian Homes, Miller & Smith, and Richmond American Homes, anticipates selling as quickly as it builds.
Embrey Mill is owned in a joint venture between NORTH AMERICA SEKISUI HOUSE, LLC (NASH), the US business unit and full subsidiary of SEKISUI HOUSE, LTD., Japan's largest homebuilder and leading diversified developer, and NEWLAND REAL ESTATE GROUP, LLC, whose development business, Newland Communities, is the master developer of the community. It is one of more than 30 assets the NASH-Newland partnership manages together in 11 states across the US.
Opening Day festivities at Embrey Mill include a food truck festival, acrobat performers, pool games, live music, and contests. For more information, please visit http://www.EmbreyMill.com and follow us on facebook.com/EmbreyMill and twitter.com/EmbreyMill.
About Embrey Mill
Embrey Mill is a new-home community set in the rolling hills of historic North Stafford, Virginia. The 831-acre community is planned to have more than 1,800 homes, and combines 285 acres of meaningful open space and distinct, intimate neighborhoods to encourage community interaction. Embrey Mill amenities include Before 'n' After Cafe, a pool and fitness center, four unique neighborhood parks, with several more planned, all designed to be convenient and walkable to help families and neighbors make the most of their valuable time at home. Embrey Mill is developed by Newland Communities, the largest private developer of planned residential and mixed-use communities in the United States. Learn more about Embrey Mill by visiting us at http://www.EmbreyMill.com following us on Twitter and Facebook.
About Newland Real Estate Group, LLC:
Newland is a diversified real estate company leveraging a national platform and over 40 years of experience to perform challenging and diverse development, investment, management, and advisory services across a wide range of real estate. The company's mixed-use development business, Newland Communities, actively owns, operates and develops premier residential master-planned, commercial, retail, and urban mixed-use real estate across the U.S. Headquartered in San Diego, Calif., Newland and its affiliated companies have completed, or have underway, more than 140 diverse real estate developments, more than 20 million square feet of commercial and retail space, and 175,000 residential units in 14 states. www.newlandcommunities.com
About NORTH AMERICA SEKISUI HOUSE, LLC (NASH):
NASH was established in 2010 as the U.S. business operations unit and a full subsidiary of SEKISUI HOUSE, LTD., Japan's largest homebuilder and a leading diversified developer since 1960. SEKISUI HOUSE, LTD. has built more than two million houses to date and expanded its operations to Australia, China, Singapore, and the U.S.  NASH establishes joint ventures to build innovative and sustainability-conscious master planned communities across the US. NASH is headquartered in Arlington, Virginia.  http://nashcommunities.com/. The Embrey Mill development joint venture is one of NASH's consolidated subsidiaries in the US.
SEKISUI HOUSE is headquartered in Osaka, Japan.
http://www.sekisuihouse.co.jp/english/index.html.