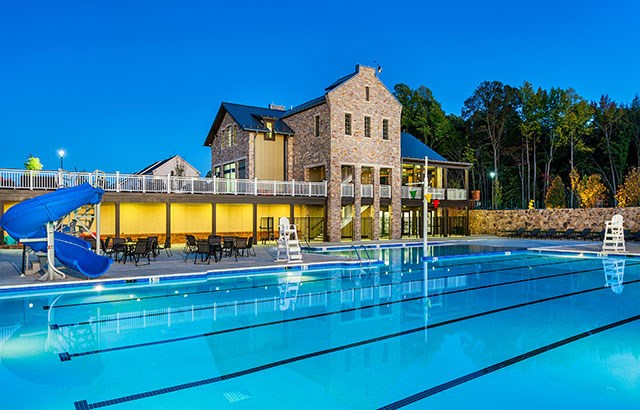 Embrey Mill Announces September 28 Grand Opening
North Stafford, Virginia – July 11, 2013 – Embrey Mill, an 831-acre master-planned community in North Stafford, Virginia has chosen September 28th as its much-anticipated opening date. Eager homebuyers will finally be able to tour nine model homes, and to see in-person how the community is taking shape.
Embrey Mill is owned in a joint venture between NORTH AMERICA SEKISUI HOUSE, LLC (NASH), the US business unit and full subsidiary of SEKISUI HOUSE, LTD., Japan's largest homebuilder and leading diversified developer, and NEWLAND REAL ESTATE GROUP, LLC, whose development business, Newland Communities, is the master developer of the community. It is one of more than 30 assets the NASH-Newland partnership manages together in 11 states across the US.
Since its announcement this spring, anticipation for Embrey Mill has been high, with inquiries from interested buyers coming via phone, e-mail, and even social media. Newland expects the new community to be a hit with homebuyers, and to help drive Stafford's economic recovery.
"We're flattered by the overwhelmingly positive reaction to our announcement of Embrey Mill," said Tracy Graves, Vice President of Operations at Newland Communities. "We're confident this new community will surpass even the highest expectations when it delivers in September."
Opening weekend at Embrey Mill will feature a private broker tour and VIP event Thursday, followed on Saturday by a public kick-off event at Embrey House. From day one, Embrey House will serve as a community hub where residents can relax, socialize, and access convenient concierge services, and also as an information center for prospective buyers.
When complete, Embrey Mill is planned to feature 1,827 new homes and multiple civic and recreation centers, as well as over one-third open space including extensive public parks and 10 miles of trails. Four of its planned parks and playgrounds will be ready for use upon opening.
For more information, please visit http://www.EmbreyMill.com and follow us on facebook.com/EmbreyMill and twitter.com/EmbreyMill.
About Newland Real Estate Group, LLC:
Newland is a diversified real estate company leveraging a national platform and over 40 years of experience to perform challenging and diverse development, investment, management, and advisory services across a wide range of real estate. The company's mixed-use development business, Newland Communities, actively owns, operates and develops premier residential master-planned, commercial, retail, and urban mixed-use real estate across the U.S. Headquartered in San Diego, Calif., Newland and its affiliated companies have completed, or have underway, more than 140 diverse real estate developments, more than 20 million square feet of commercial and retail space, and 175,000 residential units in 14 states. www.newlandcommunities.com
About NORTH AMERICA SEKISUI HOUSE, LLC (NASH):
NASH was established in 2010 as the U.S. business operations unit and a full subsidiary of SEKISUI HOUSE, LTD., Japan's largest homebuilder and a leading diversified developer since 1960. SEKISUI HOUSE, LTD. has built more than two million houses to date and expanded its operations to Australia, China, Singapore, and the U.S.  NASH establishes joint ventures to build innovative and sustainability-conscious master planned communities across the US. NASH is headquartered in Arlington, Virginia.  http://nashcommunities.com/. The Embrey Mill development joint venture is one of NASH's consolidated subsidiaries in the US.
SEKISUI HOUSE is headquartered in Osaka, Japan. http://www.sekisuihouse.co.jp/english/index.html.