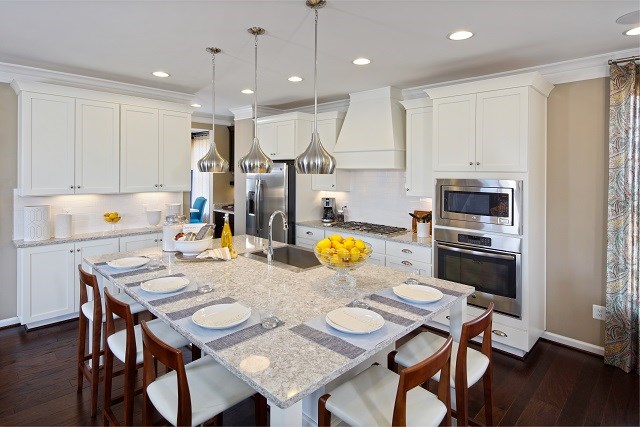 Open Floor Plans: The Way We Live Today
The Way We Live Today
By Jay McKenzie - New Home Source
The kitchen has open sight lines to the family room, breakfast nook and patio. The owner's suite offers privacy in a quiet corner of the home.
As you plan your new home, one of the most important decisions is selecting the floor plan. The arrangement of rooms, the flow from one room to another and the use of space help determine the feel of your new home.
Builders have long recognized the vital role that floor plans play in determining your opinion of a home. That's why many builders create furnished model homes that home buyers can walk through, to better experience a new home before purchase.
However, like many buyers, you may be considering a floor plan that's not available for tour as a model home. If so, there are several simple tips that will have you reading a two-dimensional floor plan like a pro.
Calculating Sight Lines    

As you shop for a new home, you may find two homes that have similar square footage — but one plan seems significantly larger than the other. How can that be?
It's not just the size of the home, it's the way the square footage is divided into rooms, and the way those rooms and spaces flow. A key driver of all of this can often be sight lines.
In architectural parlance, sight lines are what you see from any given point in the home, whether you're standing in a doorway or sitting in a room. When sight lines are blocked by a wall or a closed door, a home can feel smaller. The reverse is also true: Open things up a bit, show a hint of what lies beyond a given room, and a home will often look and live larger.

You can check a home's sight lines easily with simple tools — a printed version of the floor plan, a ruler, and a pen. Start from the middle of a doorway. Draw a straight line to various focal points in the home. Do the sight lines you drew stop within that same room? Or do they extend through adjoining rooms or spaces? And when a sight line does end, does it intersect a featureless wall? Or do you get a glimpse of a fireplace or a window and the courtyard beyond?
Use this simple and effective technique to check sight lines from various places you'll sit within the home. What will you see from the breakfast table? The family room sofa? From your bed as you read the Sunday newspaper?
As you or a guest moves through your home, it's far more interesting to get a preview of what's to come with subtle hints and intriguing clues of the spaces that lie beyond your current location, as opposed to feeling cut off from the rest of the home.
That's why so many home buyers look for an open kitchen that faces a family room or great room, so someone preparing a meal can talk with others in the adjoining family room. A hot trend in home design is creating kitchens that provide front-row seats for family and friends to marvel at the skill of the chef.

Think About Traffic Patterns

While sight lines are important, the feel of a home isn't based solely by what you can see from a given location in a home. In many ways, the true measure of a floor plan is the feeling you get as you move through the home.
Many builders these days have reduced or even eliminated hallways. It's becoming rare to use a hallway to move from one space to another — they can be a waste of space. In many cases, rooms themselves have become our passageways. This has the added advantage of making smaller rooms seem larger when they open to other rooms with good sight lines. But when you walk from the master bedroom to the kitchen, do you want to walk between the sofa and the TV? If your master is upstairs, do you want to walk down the stairs and pass through the entry in your pajamas to get a glass of water?

The best floor plans use a technique called horizontal banding to accommodate traffic patterns. For example, if the family room is flanked on one side by a master bedroom and on the other side by the kitchen, the doors or openings should be kept to the same side of the home. If not, you create a traffic pattern that forces you to navigate diagonally through another room — in this case, the family room. It can also make furniture placement more difficult.
A stairway at the front entry of your home is not always the best solution, either. It's often better to place the staircase entrance in the family room or kitchen. This positions the stairs in the center of the home for better access; it can also make better use of space.
And don't settle for just one way in to the kitchen. The kitchen truly is the heart of the home. The more ways in, the merrier. You don't want bottlenecks during parties and family gatherings. A good rule of thumb is three ways in, minimum. More is even better.

Balance Privacy and Togetherness

The relative placement of rooms can play a major role in how a home lives. Do you really want your children's bedrooms directly above (or adjacent to) the master bedroom? We all love our children, but even the closest of families need their privacy. Ideally, the owner's suite shouldn't be too close to your home's media room or main television set. With the popularity of surround sound, TVs have become louder. The best plans keep the owner's suite at a comfortable distance from other activities in the home — ideally in its own wing, with nothing above or below it, and few common walls.

Not all room adjacency issues deal with privacy. Sometimes it's about togetherness. For example, kitchens should not isolate the person preparing the meal. Eat-in kitchens are great places to bring families and friends together. By combining food preparation and dining, you can create wonderful opportunities for conversation and closeness.

The game room concept is changing, too. Instead of just converting an extra bedroom, families are finding children's retreats to be far more useful. A children's retreat consists of a common recreation/study that serves as the hub of the children's activities and is surrounded by their bedrooms. This area of the home becomes a special place just for the kids, where they can do their homework, play games or watch TV — while mom and dad enjoy some quiet time with a movie or reading by the family room fire.

Consider Window Placement

It doesn't take a lot of windows to make an impact on the personality of a home. You just need to know where to put them. And, as you may have guessed, sight lines play a large role here, too. An expansive rear wall in the family room doesn't have to be filled with two-story windows to bring in the beauty of the outdoors. Even a 20-foot vaulted ceiling doesn't call for windows all the way to the top. Besides wasting a lot of energy, it may not improve the look and feel of the room. A strategically-placed set of six or eight-foot windows can have just as much impact and be far more economical.

Small windows under cabinets and above countertops are becoming increasingly popular. A bay window in a small dining area will make it seem much larger. Pay special attention to the interior/exterior relationship created with windows. What direction does the window face? Will it give morning or afternoon light? You may want eastern exposure for a breakfast room window that frames colorful landscaping bathed in morning light. However, large windows with western exposure may not be a good idea for a family room with a large screen TV.
Additional windows that act as an eyebrow above the main window (known as Palladian windows) can add character to a home. However, they can also add cost, so make sure they're located where they will have the greatest impact and not hidden away where people can't enjoy them every day.