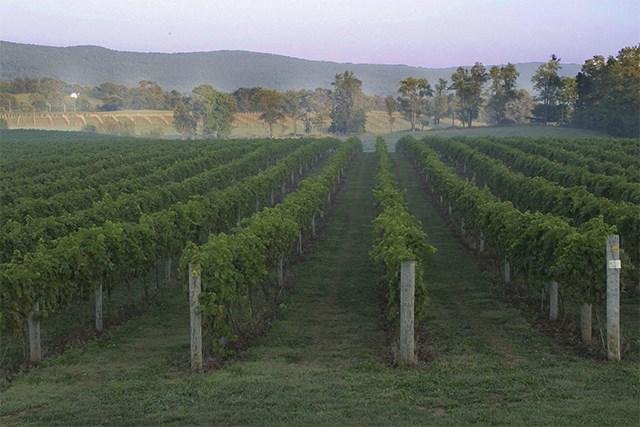 Weekend Wineries
Who knew you now live in one of America's fastest growing wine regions? Here's our list of six top picks.
1. L'auberge Provencale
If you're looking for an international experience right in your backyard, look no further. This beautiful chateau is reminiscent of France with European country décor and serene gardens. The inn oozes culture and pastoral paradise. Relax at this beautiful tapestry of culture, gourmet food, and horseback riding.
2. The Inn at Meander Plantation
Talk about upscale. This gorgeous retreat is near Historic Culpeper and Orange, Virginia. The luxe bathrobes, fine dining, and gorgeous colonial architecture create an inviting and transcendent ambience. The inn was revitalized in 1992 and is rich with Civil War history being only 4 miles away from the great Cedar Mountain. Come for the wine, the romance, and miles and miles of lush meadow!
3. The Inn at Vineyards Crossing
Romantic picnics with open fields, educational wine tours, and yummy cheeses and cured meats paired with cozy, colonial lodging. The Vintage Virginia Tasting is a historical favorite boasting a beautiful 400-year story. Sip on a timeless Bordeaux, Chambourcin, or Chardonnay. Not into group events? Book a private wine tour for you and yours.
4. Sharp Rock Vineyards
We love Sharp Rock! Escape the hustle and retreat to the Blue Ridge views, endless greenery, and winding wine trails. Ever been to Shenandoah National Park? Well, here you'll find hiking, babbling rivers and streams, and stunning caves waiting for you to explore. You'll also bump into the Blue Ridge Whiskey Wine Loop, which includes wineries and a whiskey distillery. You can also book one of the cottages for peaceful weekend.
5. Morais Vineyards & Winery
Old world charm meets chic modern style at this gorgeous Portuguese winery. Explore Portuguese vintage wines, relax in the tasting room, or sit out on the wrap around veranda. This is the perfect place to bring your own picnic and make an afternoon of sipping, pouring, and reminiscing. There's no lodging here, but the Airlie is a quaint and idyllic hotel 16 miles north perfect for a weekend rendezvous.