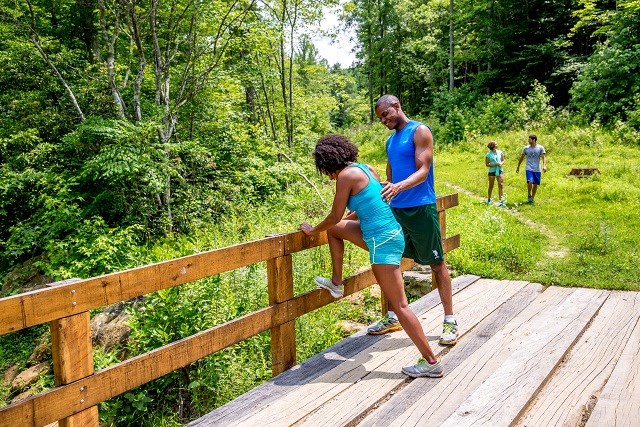 New Year's Resolutions Easy to Keep at Embrey Mill!
Now is the time of New Year's Resolutions. We make them, but usually have a hard time keeping them. We have infinite excuses and reasons why our resolutions fall apart, from unrealistic expectations to not enough time. Fortunately, when you live at Embrey Mill, keeping those classic New Year's Resolutions becomes easier! Here's a quick guide on how to keep your resolutions in 2018!


"I want to hit the gym more this year." If fitness is your primary goal for 2018, you are in luck! Embrey Mill has its very own gym located conveniently at the Embrey House. It is an exclusive gym for residents only! Not only do we have an onsite gym, we are just blocks away from The Jeff Rouse Center. The Jeff Rouse Center features a gym, several pools and basketball courts. It also offers classes like yoga and cycling, so if working out with others helps you stay motivated; they have you covered! Getting in shape is easy when you live at Embrey Mill!



"I want to reach out and make more friends in 2018." Embrey Mill offers many amenities, but one of our favorites is not a building; it is how tight knit our community is. Friends are built-in at Embrey Mill. Our community events are held year round, making it easier to make new friends. Once you exchange numbers, your neighbors will be constantly inviting you to meet up for activities like game and movie nights. Not to mention taking advantage of walking to the Grounds Bistro and Café for a night out without the kids.  



"I want to be closer to nature this year." If getting outside is what your goal is for the new year, you're going to love our trails! Embrey Mill has several walking trails throughout the community. There will be 10 miles of trails once the development is finished! Did we mention we're also a walkable community?! The whole community is lined with sidewalks, making it super easy to take out the stroller for a walk around the neighborhood.


You see, Embrey Mill has all you need to keep your New Year's Resolutions!