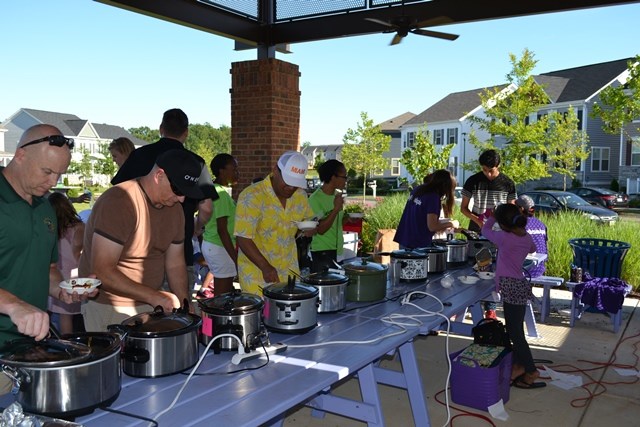 Embrey Mill Second Annual Chili Cook Off!
When you say it you can feel it :Chill-e Cook-off. That's right it's time to chill out and enjoy the 2nd Annual Embrey Mill Chili Cook-Off as an Embrey Mill resident. This is a family fun event where everyone can enjoy the afternoon in Festival Park flying kites, throwing Frisbees, tossing the ball and just Chill-ing.
Are you the competitive cook? Last year a dozen recipes entered for the right to be crowned. After the Stafford County Fire and Rescue Chief Mark Lockhart finished judging the culinary delights, hungry visitors were able to put their taste buds to the test. Whether you are a casual chili fan or a chili perfectionist, you were not disappointed.
So Embrey Families get ready; cooks bring your "A" game. We will be holding the second Annual Chili Cook off in October. We are all looking forward to experiencing more creative concoctions that will sure spice up our day.
5 Tips to a great chili
Brown the meat.
No matter what type of meat, or what cut you're using, it needs to be browned first — always. Chili is not meant to be made with raw meat. To get the best sire on your meat let it come to room temperature before placing it in the pan with oil.
Sauté your vegetables.
Vegetables like onions, peppers, and garlic have the potential to deepen your chili's flavor and add a bright freshness. Without cooking them, though, that potential will never be realized.
Season early and season often
Herbs and spices are the key to flavoring chili, but if you wait until the end of cooking to add them, you're missing out on a ton of flavor. If you add seasonings early on, the flavors will mingle together and develop an even richer tasting chili as it simmers.
Cook the chili long enough.
There are a lot of recipes for "quick weeknight chili," and they're good, but they're not exploding with richness and layers of flavor like a pot of chili that's been simmering for a couple hours. Great chili needs time to draw out the flavors from each ingredient and blend them together.
Don't forget about the toppings.
A killer bowl of chili is not complete without toppings. Don't forget to finish off your chili with some of your favorite toppings! I love Greek yogurt, sliced scallions, grated cheddar, and of course, plenty of tortilla chips.