Historic Cemetery at Embrey Mill
The Knight family cemetery is located on the farm formerly owned by the Knights and later, by Jackson Musselman, son-in-law to Lewis Knight. The cemetery contains several graves; however, only two are inscribed. The fully inscribed stone, belonging to Lewis Knight, was placed at a later date by the family within the cemetery bounds. An additional gravestone is inscribed; a sandstone headstone of approximately 1.5 feet in height with "KNIGHT" carved into the marker.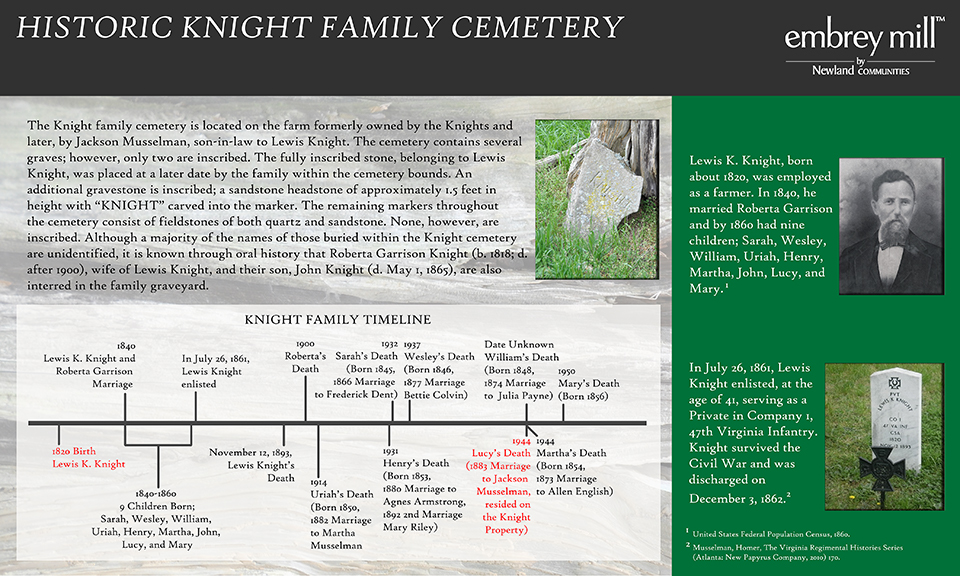 The remaining markers throughout the cemetery consist of fieldstones of both quartz and sandstone. None, however, are inscribed. Although the majority of the names of those buried within the Knight cemetery are unidentified, it is known through oral history that Roberta Garrison Knight (b. 1818; d. after 1900), wife of Lewis Knight, and their son, John Knight (d. May 1, 1865), are also interred in the family graveyard.
Read More about history at Embrey Mill, including the historic Knight House.