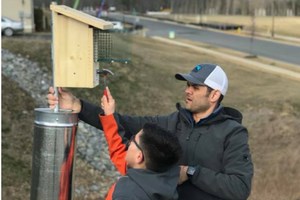 Bringing Bluebirds to Embrey Mill
Embrey Mill is excited to be working with The Virginia Bluebird Society to bring bluebirds to Embrey Mill.
According to VBS, "in the early 1900's the Eastern Bluebird was one of Virginia's most common songbirds. Human activities and many harsh winters resulted in a severe decline of the bluebird population. Thanks to conservation efforts, the bluebird is making a strong comeback. However, the continuing loss of natural nesting sites and other problems faced by bluebirds indicate that that this beloved bird may always need help to survive."
Embrey Mill is committed to doing our part in the conservation of these beautiful birds, and we are very happy to announce that in the near future Phase II will include a beautiful park-like setting, named Bluebird Hideaway. You may have noticed in your travels throughout the community that we have scattered six bluebird monitoring stations (three in each phase of Embrey Mill), and plan to install an additional four as the community continues to grow.
Thanks to our devoted and passionate volunteers, the monitoring stations will be monitored weekly from April through August, which is the bluebird nesting season. The hope is to have the bluebirds find these nesting stations and go through their process of nest building, egg laying, incubation and brood hatching, eventually increasing the population.
We would happily welcome anybody who would like to be part of this conservation effort and volunteer to be a monitor. If that is something you may be interested, please contact Kristine Mayo at kmayo@newlandco.com.