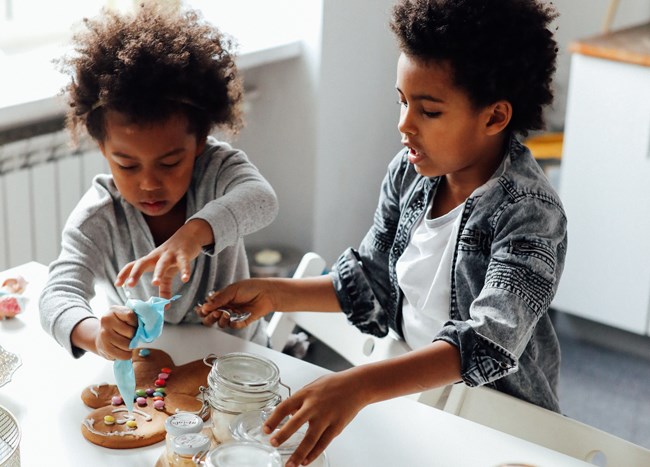 Make The Holidays A Treat For All Your Senses
The holidays are coming.
It's time to get your home into the festive spirit.
Holiday decorating can go way beyond just the traditional embellishments, while involving and celebrating through all the senses.
Here are a few ideas to let the holidays play with your senses and make your home even more magical:
Adorn Your Doors & Windows
Doors and windows are some of the first things you see when approaching your house. They're like the eyes of your home. And when there's a holiday twinkle in your home's eyes, it will spread to you and your guests. But this goes beyond a wreath on the front door—interior doors need love too. Decorating them can be as easy as sticking up holiday cards or some of your children's art. You can also hang ornaments from door knobs for extra little bits of holiday flair. (We recommend doors that don't get a lot of use and ornaments that can take a plummet to the ground or two without damage.)
Decorate Your Tables
Any flat surface can be a stage for a holiday display or decoration. Again, cards can provide an instant blast of holiday cheer. Table settings and centerpieces have also gained prominence on social media as prized ways to decorate a table. Your table decorations can be as simple as a jar filled with fairy lights or as complex as one of those tiny holiday train sets of old. Table decorating is a great way to play with different materials and textures for a more tactile experience. Plus, tables are perhaps one of the best places to showcase kids' art, often the most pure symbol of all the joy the holidays bring.
Delight Your Noses
Smells are deeply and uniquely connected to the memory centers of the brain. Bringing scents into your holiday decorations will not only conjure your own visions of holidays past, but also cement the current holidays into the memories of your children. Scents can be sprays or air fresheners, satchels of potpourri or cinnamon, scented wax warmers or candles, or anything else that smells good. Smells can also be generated by baking and cooking, taking us right to number 4:
Taste The Holidays
Because taste is so linked to smell, it makes sense (no pun intended) that tastes can also trigger and preserve memories. Plus, baking holiday foods are a great way to involve the kids in something bigger than just waiting for presents. Something the whole family can delight in and, maybe, share with others. And there's no greater satisfaction than eating a cookie you helped bake (with the slight exception of eating another cookie you helped bake).
Charm Your Ears
Plato once said music "...gives a soul to the Universe...," and that's never felt more than during the holidays. Playing holiday music can make everything feel more festive. But you can do even more with ambient sound effects, such as a fireplace crackling, cat purring, snow softly falling, and grandfather clocks gently ticking. Ambient-Mixer is just one of many online tools to help you listen to (and tweak or create) soundscapes to give your home even more holiday atmosphere.
This holiday season, give all your senses presents. Celebrate and decorate with sound, sight, touch, taste, and smell for memories that will last for many holidays to come.