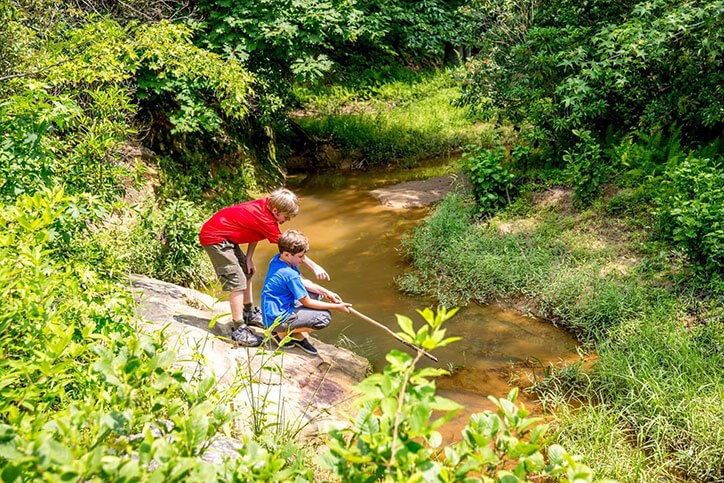 8 Fun Spring Activities for Kids
"Some old-fashioned things like fresh air and sunshine are hard to beat."   
—Laura Ingalls Wilder
Spring is a time when nature awakens.
Even the sun is happier, which is why it stays around longer.
Spring is a great time to get outside and the fun nature provides all around you.
Here are 8 of our favorites spring activities for kids (and you) to enjoy the season with at Embrey Mill!
Find things near and far

Bring binoculars and a magnifying glass on a nature trail hike and see how many different animals, plants, and insects you can spy. The goal is to find the farthest things with the binoculars and the smallest finds with the magnifying glass.
Recycled bird feeders

Pine cones that fell during autumn can be found all around Embrey Mill. Bring some home, smear them with peanut butter and roll them in bird seed. Instant bird (and squirrel) feeders that are totally natural.
Edible spring pretzel nests

Nature creates art all on its own, but copying it can be fun: especially when you can eat the results! Here's a great guide in how to make and enjoy edible birds' nests from The Artful Parent.
Sound collector

Bring an audio recorder with you as you hike around Embrey Mill and see how many different nature sounds you can capture. The first challenge is to collect the sounds on the walk. The second challenge is to identify them once you get home using the power of the internet.
Okra flower prints

Some people like okra, some find it too bitter. But what everyone can agree on is the beautiful flower-like cross section when you chop it. So, cut some okra and use inks or paints to make all sorts of fun flower prints. Check out The Imagination Tree for some more info and ideas.
Dandelion-dyed play dough

Dandelions are a pretty part of spring childhood. While they have been eaten in some form since prehistory, they also make a great yellow dye. Parenting Chaos has a wonderful recipe for making all-natural play dough and dying it with dandelions.
Build a woodland fairy

Sticks and seeds and leaves and flower petals can be found all around Embrey Mill's nature trails and parks. Gather some that have fallen (never pulling them off of growing plants) and glue them together to form woodland fairies. Twig and Toadstool has some awesome inspiration here.
ABC scavenger hunt

This is a fun idea. Using the printable board at The Many Little Joys, explore around Embrey Mill and find things starting with each letter of the alphabet. Write down what you find and see who can fill their board first. This is a great excuse to get the whole family out and into the fresh spring air.
Now get out there and start exploring Embrey Mill. Enjoy all the new life and new adventures that nature blossoms all around you. Remember: fun spring activities for kids bring out the kids in all of us!