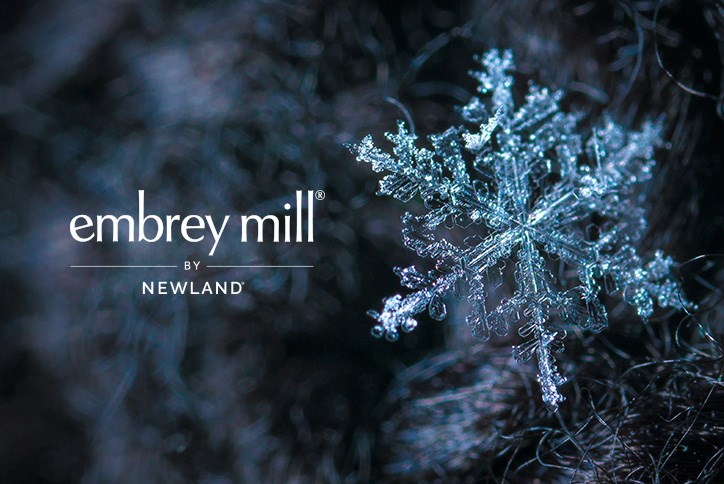 Winter Activities at Embrey Mill
Temperatures continue to drop.
Snow starts to appear on forecasts and in our yards.
There's no question: Winter has definitely come to Embrey Mill.
But winter can be fun too.
Here are some of our favorite activities you can enjoy around and in Embrey Mill.
Get Your Skates On
Ice skating has been a staple of winter since forever. It conjures images of Rockefeller Center, Snoopy showing Charlie Brown how it's done, and all sorts of Victorian revelers from classic stories venturing out on the ice for an afternoon of excitement. Ice skating feels synonymous with childhood freedom, wind blowing your scarf behind you, and gliding across the glass-like ground of winter.
At Embrey Mill, you don't have to fight the elements for some ice-skating fun, you just need to do a little driving! About 25 minutes away is the Prince William Ice Center. This full-service ice-skating rink does it all: ice hockey for kids and adults, special events, skating lessons, figure skating training, and (the thing we most love) public skating almost every single day!
But if you'd like to be a little warmer, try some wintertime roller skating at The Cavalier Family Skating Center! Less than 4 miles from Embrey Mill, you'll be able to roll almost every night and during the day on weekends. With a discount for groups of 6 or more, this really is a place to meet and skate and have a blast with friends and family.
Hot Chocolate with Friends
The steam from the cup swirling the heavenly chocolate aroma to your nose. The peaks of whipped cream balancing on top like the sweetest iceberg in the most extravagant cocoa ocean. There's just something about a cup of hot chocolate on a cold winter's day that slows the world down and makes you feel like a kid again.   
Okay, so it doesn't have to be hot chocolate, but meeting friends for a hot drink at Embrey Mill's own Grounds Bistro & Café is a fantastic way to spend a cold winter afternoon. You could enjoy a latte, espresso, or just a classic cup of coffee. Feeling the liquid warm your body is just as comforting as feeling the friendship warm your soul.  
You know what else goes good with a warm drink? A plate of loaded nachos or nature's perfect comfort food: mac n' cheese! Grounds beats the cold with a seasonally changing menu of delicious proportions. And best of all, you never have to leave Embrey Mill to get something good to eat! 
Taste Fredericksburg
And though Grounds Bistro & Café is always in the neighborhood with a good time, why limit yourself to just tasting a community. Why not taste an entire city? Well, clear your calendar from January 13-22, and ready your hunger for Fredericksburg Restaurant Week!
Twice a year, restaurants from all over the city come together for a whole week of gastronomic celebration. Presenting their best dishes and tastiest creations, every flavor of the rainbow is on parade and ready to be sampled.
Some of the delicious restaurants already on board are Brock's Riverside Grill, Red Dragon Brewery, Sunken Well Tavern, Ristorante Renato, and Eileen's Bakery & Café. Expect to feast on hand-made breads, steak and seafood with a southern flair, authentic Italian cuisine, and oh so much more. Come hungry and find a new favorite spot for date night!
Walk Through a Winter Wonderland
Embrey Mill has ten miles of trails that wind their way through our community, around homes and parks and hundreds of acres of green space. One of the best things to do during winter is get out and experience the season.
Enjoy the cold stillness that winter brings to the world. The crunch of snow beneath your feet. The clouds of breath that hang in the air. Being outside during the winter months is essential to keeping your mind and body healthy. Plus, it's just dang fun.
Embrey Mill in the winter is the perfect place to build a snowman, snow fort, or snow family. It's a wonderland full of neighborhood friends, seasonal wildlife, and beautiful colors. And it's a great place for a fun snowball fight! 
Snowball Fight in Fredericksburg
But even if it doesn't snow, you can still enjoy a snowball fight. And not just one between a couple of friends: This is Fredericksburg annual Snowball Fight Melee. This "snow or shine" event has its own synthetic snowballs ready in case of dry weather.
But it's not just one fight. The Snowball Fight Melee is a free-for-all, followed by a more organized team battle. Plus, mini games of skill and a separate under-10 kids' area will be available to make sure everyone in your family is able to have a good time.
But even if it's not snowing, don't forget to dress appropriately for the weather. Even fake snowballs will be cold when it's cold outside. Register online to make sure you have your spot in this fun event.
Staying Home in Embrey Mill
One of the best things you can do at Embrey Mill during the winter is just stay home. From the comfort of your own home, you can revel in the sight of newly fallen snow and bask in the glory of winter sunrises and sunsets. 
You can savor a cup of mulled cider and leftover holiday cookies as you sit in your favorite chair in your favorite room and read your favorite book. You can watch the kids play outside with their friends, comfortable with the knowledge that should they look too cold, they can come right in (or if they look like they're having too much fun, you can go out and join them).
And from your home in Embrey Mill, you can explore all the other fun things to do in winter we've mentioned above—all with the knowledge that afterwards, you can come right back home. Don't live in Embrey Mill yet? Well, find your new home here for 2023.