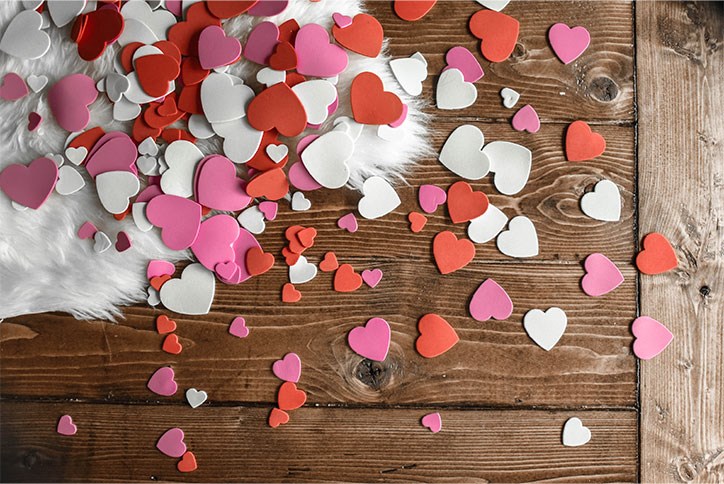 Unique Valentine's Day Dates Near Embrey Mill
Valentine's Day is coming.  
For some, that means buying chocolates and flowers and planning a meal at a fancy restaurant. 
While those are time-proven Valentine's Day presents (and it's never a bad thing to get chocolates!), they are sort of overdone.  
Hackneyed.  
Amateur hour, even.   
They will show your intended that you thought of Valentine's Day but didn't really think enough about it to plan something truly memorable.  
We're here to help.  
Here are some non-traditional places near Embrey Mill to take your date this Valentine's Day that make flowers and candy look pitiful in comparison. 
Plus, if you're the type who spends time with friends on Valentine's Day instead of searching for romance, these excursions will be equally as fun! 
1. Fun Land 
Travel just 16 minutes from your home in Embrey Mill to Fredericksburg and you will find yourself in Fun Land. Make any Valentine's Day outing special with a wide variety of exciting activities and over 100 popular arcade games.  
Nothing says an exciting date like screaming around a track as you race in Go-Karts. Or, if you prefer something a little slower, try the Rocky River Mini Golf for 18 holes of inner-child-pleasing enjoyment. Playfully compete with your friends, or, if it's really a date night, help each other with your putts just like in the movies.  
But Fun Land isn't just about competing against each other: It's about teaming up and being encouraging. Coach each other to new heights and through new challenges in Clip 'n Climb's 8 challenging climbing experiences and Sky Trail's indoor ropes course with zip lines. And you can totally work as a team blasting others in a fun game of Laser Tag. 
We already mentioned those 100+ arcade games, but some of them are ticket games. The better you do, the more digital tickets you'll earn, and the bigger prizes you'll win. Because nothing says a good Valentine's Day like winning that special someone a special something to remember the special day. 
2. Potomac Point Vineyard & Winery 
When you picture a traditional night out for Valentine's Day, it normally involves an iconic glass a wine. Well, why just enjoy a glass of wine when you can enjoy the whole winery? Plan a trip this Valentine's Day to Potomac Point: Northern Virginia's premier winery.  
Created like a European estate, Potomac Point perfectly juxtaposes the Tuscan atmosphere with its Stafford County location. Here, you can enjoy award-winning wines and delectable cuisine with their selection of wine tastings & flights and a full bistro.  
But for Valentine's Day, they kick the special up a notch with extra decorations and food and drink specials, including themed entrée and dessert creations. There's even a special "Mi Amor Mimosa" for Sunday brunch on February 12. Indoor and outdoor reservations are accepted all Valentine's weekend, with several fireside options (both inside and out) available upon request as available.   
Plus, chocolate and wine pairing flights will be available during any bistro or wine tent reservation from February 1-19, so you can even plan your Valentine's Day excursion a little outside the normal February 14 window. Do note: Reservations are required at Potomac Point, so make your plans early! 
3. FXBG Axes 
Valentine's Day is never about celebrating with exes, but it can be all about celebrating with axes! A quick, 24-minute drive will bring you and your Valentine's party to FXBG Axes, Fredericksburg's "first and only axe-throwing range."  
And best yet for a date night, no experience is needed. Once the coaches teach you the basics, you'll be hitting the bullseye like a pro. But it's not just about throwing an axe at a target and calling it a day. FXBG Axes uses state-of-the-art projected targets, meaning you can play many different games like Zombie Slayer, Connect 4, and Duck Hunt.  
Throwing axes can build up quite a hunger and thirst, and that's when you head to the snack bar. FXBG Axes offers a wide range of adult beverages to choose from: beer, wine, and flavored lemonades. They also have ready-to-order finger foods.  
Walk-ins are welcome, but reservations are preferred. It's time to upgrade Cupid's game. Toss his bow and arrows and give him some throwing axes for a Valentine's Day you'll never forget! 
4. Reclaim Arcade 
Fans of Stranger Things and everything 80s will love the nostalgic trip through time at Reclaim Arcade. Your adventure begins as you enter through a family video store complete with VHS, Betamax, and Laserdisc movies from the 80s and 90s.  
You and your Valentine can get your tickets and go right into the arcade, or you can pick out a movie and check out the 80s Console Living Room. Relax in this super-retro space and watch some network TV from the 80s, play Atari 2600, pop in a VHS tape, and just hang out and listen to some (now classic) music.  
But don't forget, you came here for the ultimate arcade experience. This is every 80s kid's dream, as one ticket gets you playing over 70 old school video game consoles and pinball machines all set to free play. Leave your quarters at home and test your skill on such classics as Centipede, Double Dragon, Joust, and Teenage Mutant Ninja Turtles.   
And no arcade is complete without snacks, so enjoy Reclaim Arcade's Power Up food truck. Smash burgers, chicken sandwiches, Philly cheesesteaks, and more are ready to give you that extra play you need to keep on gaming. To add a little more romance to the bleeps and the bloops of the games around you, we suggest sharing one of Reclaim Arcade's signature Bavarian Pretzels. Brushed with melted butter, dusted with cinnamon sugar, and served with caramel dipping sauce, this is the treat to sweetly end any Valentine's Day date. 
5. Embrey Mill 
Of course, you can have the best Valentine's Day celebration right here at Embrey Mill without ever leaving our community! Enjoy a candlelit evening at home with a meal you cooked from scratch, candles and cloth napkins, and some bubbly. Recite poetry to each other in your backyard as you gaze up at the stars smiling down upon you. 
Or hold hands and go on a walk through nature on our many trails. Enjoy the sights and sounds that made you fall in love with Embrey Mill the first time and fall in love with it (and each other) all over again.  
And if you want to go out, enjoy an intimate dinner at Grounds Bistro & Café. Pick your favorites or try something new. Grounds is also a great place to meet up with friends if you are celebrating anti-Valentine's Day. Enjoy some drinks and desserts and company with your friends and neighbors.  
Whether you're spending time with a special someone or just friends, the important thing about Valentine's Day is to have fun with someone you care about. And because we at Embrey Mill care about you, "Happy Valentine's Day!" 
​