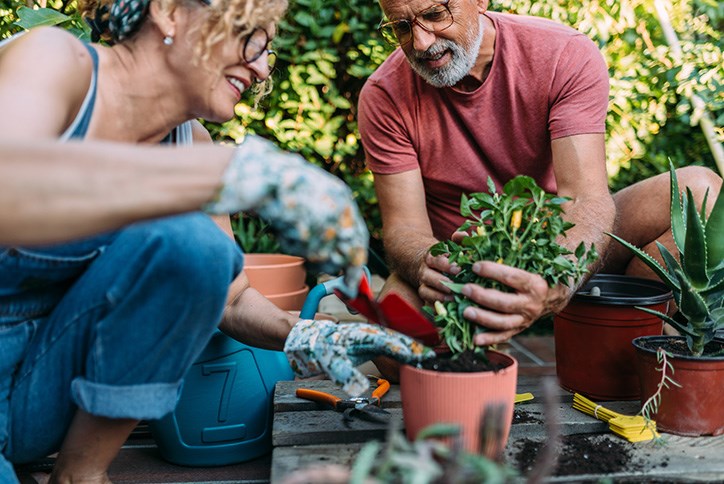 Spring into Home at Cascades at Embrey Mill
It's that time!
Plants have pushed forth from their winter slumber and it's time for you, too, to ready yourself for new experiences, adventures, and friends.
As flowers bloom and birds begin to prepare their nests, the land grows more colorful and the air is filled with new song.
Spring has come once again to our exclusive 55+ Active Adult section: Cascades at Embrey Mill!
It's time to celebrate the Grand Opening of Cascades Clubhouse! On Saturday, March 11, from 1–4PM, join us to see all that this brand-new, private club has to offer. Tour the event kitchen, lounging area with fireplace, yoga room & weight room, multi-purpose room, and sundeck with multiple outdoor grills and two fire pits. Plan your first pickleball or bocce ball game, and imagine which part of the nearby playground your grandchildren will want to play on first. RSVP today and get on the list to learn about all the special event information—coming soon!
And since spring is here, let's look at some of the spring things to do around your home!
Enjoy Spring Inside Your Cascades Home 
Inside your Miller & Smith Luxury Villa or Drees Homes Elevator Flat, spring is when you move around your wardrobe. Your heavy coats and snow boots get a well-deserved rest, while cooler and more lightweight jackets are unveiled. The utilitarian hues of winter garments are exchanged for the brighter, happier colors of spring fashion. And it's also time to go shopping for some new apparel as you begin to spend more time outside!
Spring is a time to change out the decorations in your home too. Gone are the greens and browns of winter that you use to remind you of other times in the year. Now that spring is here, it's all about bringing the outside colors in. Yellows and reds and blues and purples: a rainbow of colors to revitalize the ambience of your home.
And this isn't just about changing curtains or centerpieces or throw pillows. Find natural ways to enhance your home with springtime beauty. Start some vegetables or herbs growing in a window garden. Bring in lots of fruit: Oranges, bananas, and grapefruit are just as beautiful as they are delicious!
One thing to remember is the importance of scent. Spring has its own sort of freshness to it, and letting that flow through your home will perk up your spirits. Whether it's using air fresheners, cut flowers, or just having your windows open a bit, a breath of spring will definitely put a spring in your step.
Enjoy Spring Outside Your Cascades Home
Cascades at Embrey Mill—and Embrey Mill in general—really comes to life in the spring. The trees around the trails become lusher and the fauna becomes livelier. More birds singing. More squirrels foraging. More chipmunks darting about.
The fairer weather also makes our many parks more enjoyable to be in. Meet friends in a park and then take your dogs to one of our dog parks. No need to worry about frozen ground or snow (fingers crossed) anymore! And speaking of softer ground, now's the time to start checking out the progress—or helping nurture—our Community Garden. Just as the garden changes with the seasons, so does the menu at Grounds Bistro & Café at The Embrey House. Time to taste all the new flavors and specials coming your way and savor everything this clubhouse offers!
And we certainly can't talk about enjoying new things without once again mentioning the Cascades Clubhouse! This brand-new clubhouse is only for Cascades residents and features even more fun. You'll be able to meet neighbors easier, hang out with friends closer to home, and flex your muscles in a "just-for-Cascades" weight room. This is your space to make Cascades even more the home you've always dreamed of in Embrey Mill.
Enjoy Spring Outside Embrey Mill
As much as there is to do in your home and inside Embrey Mill, there are also exciting things to do near our community. Here are just a few of the spring adventures you can enjoy outside Embrey Mill:
St. Patrick's Day at Barley Naked Brewing Co.
Nothing beats a cool drink on a festive spring day. At Barley Naked, minimal ingredients and traditional recipes combine to form some of the best hand-crafted beer around. Opened in 2018, each batch at Barley Naked is brewed with love for local enthusiasts. Plus, visiting food trucks let you taste a wide variety of delicious and complementary dishes. Stay tuned to their website for more details on their St. Patrick's Day festivities.
Government Island Hike
Government Island is uniquely connected to our area's (and nation's) history. You see, this park used to be a quarry—but not just any quarry. The Aquia sandstone quarried from Government Island was used in the construction of the White House and U.S. Capitol Building. What also makes this park special is its elevated boardwalk trail that goes through wetlands and woods to the island. Depending on when you go, you could see native birds nesting or migratory birds planning their next trip. It's a wonderful way to experience the changing of seasons.
Relive Winter at the Stafford Civil War Park
In the past, spring was a time to celebrate getting through the winter cold. So, do that, too, in the shadows of the past at the Stafford Civil War Park. Enjoy 41 acres of natural beauty as you tour eight areas that hosted Union soldiers after the Battle of Fredericksburg in 1862. Hike almost a mile and a half of trails, explore three bunkers with cannon displays, and check out the historic stone quarry. Plus, you can examine a replica winter hut guaranteed to make you even happier you live in luxurious comfort at Cascades at Embrey Mill!
Happy Spring from EmbreyONE at Embrey Mill!