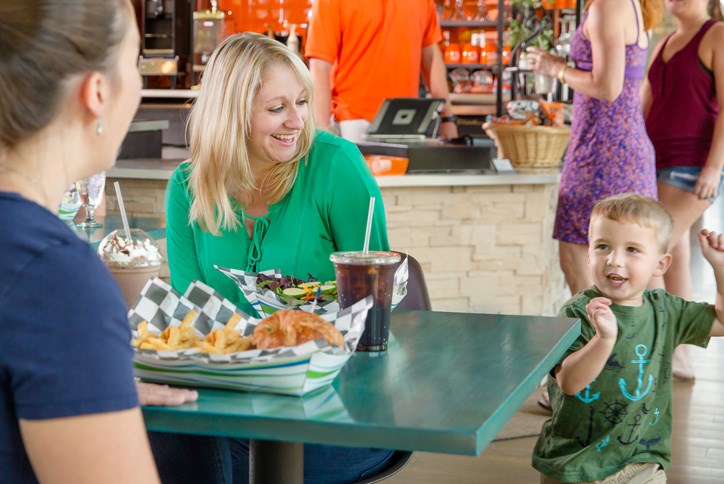 Extraordinary Summer Dining at Embrey Mill
Welcome to Summer at Embrey Mill
The sun is shining, the pools are cooling, and the parks are bustling.
Everyone at Embrey Mill gets more active during the summer, spends more time with their neighbors, and strengthens their bonds with our amazing community.
But with all the warm weather and fun activities, it's really easy to build up a hunger.
So, we thought we'd put together a guide of a few of our favorite summer dining hot spots in and around Embrey Mill.
In this blog, we'll take you on a culinary journey, highlighting some of the best places to eat and enjoy during this sunny season.
Our Favorite Summer Meals at Embrey Mill
Grounds Bistro & Café 
Of course, the first place we can think of to enjoy the tastes of summer is our very own Grounds Bistro & Café. Right in Embrey House, the heart of Embrey Mill, Grounds is ready to celebrate the seasonality with new summer favorites including food and drink specials. And just as tasty are all the events happening here, including a night of Latin Dancing on July 22! This free event starts with a dance lesson by DJ Elle Jay—and then you can dance the night away on the patio under the stars.
Fatty's Taphouse Seafood & Grill 
If there's one word that definesFatty's Taphouse Seafood & Grill, it's fresh! Fresh seafood joins local produce to be steamed and cooked to order. Steam pots and burgers are waiting to delight your taste buds, and craft cocktails and self-serve beer are ready to wash it all down. And yes, you read that right: Fatty's Taphouse has a self-serve tap system to pour yourself pints or flights! Plus, they have an outdoor dining area so you can enjoy cold beer and delicious seafood under a warm summer moon.
Zibibbo73 Ristorante & Raw Bar 
Zibibbo73 Ristorante & Raw Bar is a taste of old-world cuisine packaged in a modern setting. Zibibbo73 has the same philosophy as Fatty's Taphouse: Fresh is best! Pairing fresh herbs, vegetables, the finest cheeses and pasta on the market, and naturally raised meats and fish, Zibibbo73 creates simple and elegant recipes for you to enjoy. And if you're wondering about their unique name, get ready for a history lesson! The zibibbo grape is possibly one of the oldest vines used in wine making, and it arrived in Italy in 1773. Put the two together, and there's the name! 
The Log Cabin 
When you crave delectable seafood and steak dishes, made with only high-quality ingredients and served in hearty portions, look no further than The Log Cabin. A Stafford institution for over 80 years, The Log Cabin has some of the best food you can find served in a rustic and cozy setting. This destination restaurant will keep you coming back as they delight your tastebuds and treat you like one of the family. We can't recommend The Log Cabin highly enough.
Our Favorite Summer Desserts at Embrey Mill
Crumbl Cookies 
Crumbl Cookies offers gourmet cookies. That's it. But they are some of the most mouth-watering cookies you could imagine. Not to mention, the cookie menu switches it up every week with flavors you love and some you won't find anywhere else! Every cookie at Crumbl is made fresh each day, and they sure taste like it. Pick them up in store or have them delivered straight to your door. And getting cookies delivered to your home is a childhood dream come true.
Carl's Frozen Custard 
You can't have a good summer without eating something cold. And there's one place that everyone in Stafford and Fredericksburg thinks of when they are craving a cold treat: Carl's Frozen Custard. Since it first opened in 1947, Carl's Frozen Custard has tickled the tongues of adults and children alike using the same recipes (made fresh every day!) and run by the same family. Carl's is more than just the best place to get frozen custard, it's become a local institution! Even its classic sign is world-famous, as it's registered as a Virginia Historic Landmark.
Summer Dining at Embrey Mill
There's one more great place to dine during the summer, and that's your new home in Embrey Mill! With all of our builders' homes, private outdoor spaces are included or optional so you'll always be able to have your own cookout or a picnic. Bring some food home from one of the locations above (or get some cookies delivered!) and you'll have a summer dining experience right at home!
Embrey Mill offers a variety of delightful dining options nearby for the summer season. Whether you're in the mood for a casual outdoor picnic or a delicious meal at a local restaurant, there is something for everyone to enjoy. So, grab your friends and family, soak up the warm sunshine, and indulge in the delectable flavors that Embrey Mill has to offer—make your summer unforgettable!