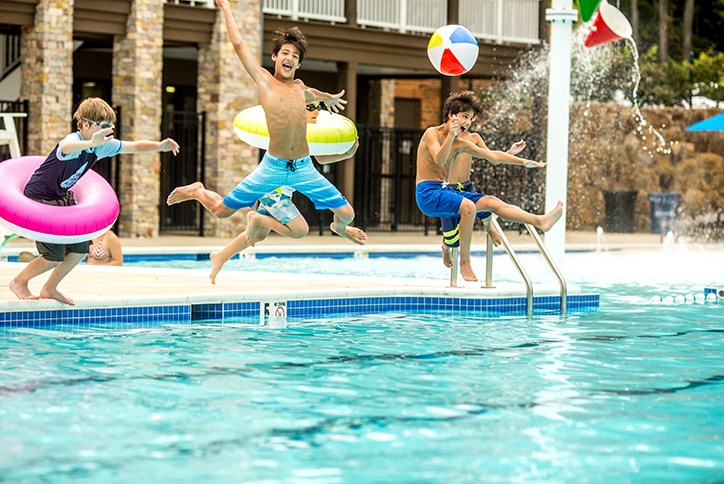 Pool Safety and Fun Games at Embrey Mill
It's that time of year again: The pools are open!
Ever since the first century BC in Ancient Rome, swimming pools have been delighting children of all ages.
At Embrey Mill, our community has two wonderful pools for you to enjoy all season long.
There's our Embrey House pool. This one features five lap lanes for going back and forth and back and forth. It also has a beach-entry shallow end and an amazing waterslide!
Our Knight Meeting House pool also has lap lanes, a zero-entry feature, a water slide, and plenty of deck space and lounge chairs for soaking up the summer sun.
But with great summer fun comes great summer responsibility. Let's dive into (see what we did there?) some pool safety tips that will make sure everyone stays safe, and then outline a few of our favorite pool games!
Pool Safety Tips
There are many things you can do to make your family's trip to the pool safer. Some happen before you get to the pool and some while you're there.
Safety Before the Pool
Know How to Swim
One of the easiest ways to stay safe is by knowing how to swim. Feeling comfortable moving in the water will make sure you and your kids can navigate around other people, adapt to any surprises, and all around have more fun in the pool. If your kids need to learn how to swim, we're right next door to the Jeff Rouse Swim and Sports Center!
Learn CPR
At least one member of your swim party should know how to perform CPR on both children and adults. Knowledge is power, and anything that will give your mind more skill in knowing what to do on the very rare chance that something goes wrong is very helpful indeed. And there are many places around our area who can train and certify you for CPR.
Wear Proper Sunscreen
Before you get to the pool, get that sunscreen on. Know how strong your sunscreen is and when it will need to be reapplied: Most should be reapplied about every two hours. Sunscreen is one of the easiest ways to stay safe at the pool. Which leads to the question of cream or spray? According to the American Academy of Dermatology Association, the FDA is still evaluating the safety and effectiveness of sprays, so stick with creams.
Safety At the Pool
Have a Water Watcher
When children are playing in and around the pool, at least one adult should be a designated water watcher. The water watcher will keep an eye on the kids to make sure everyone is obeying the rules and being safe. The water watcher's job should be their priority, so no reading or playing on a phone or napping. If you're with a group of adults, you can always switch off who's "on duty."
Remember the Buddy System
Buddies are important, especially at the pool. Swimming with a buddy not only is more fun, but it also means that no one is in the water alone. Buddies are always looking out for each other. Buddies are like deputy water watchers, and a very integral party of pool safety.
Only Jump in Where Allowed
Rules about jumping or diving into the pool exist to keep everyone safe. Diving or jumping into water that is too shallow is a recipe for disaster. And if it is safe to jump in or dive where you are, make sure the water is clear where you intend to go: It's worth the extra safety to take one extra look before you leap!
Pool Games
Marco Polo
One of the most well-known pool games shares its name for a famed 13th-century Italian explorer. One player closes their eyes and tries to find the other players. Whenever the seeker says, "Marco," all other players must respond, "Polo!" This is a water-based version of the game Blind Man's Bluff/Buff, which has been played all over the world for thousands of years!
Follow the Leader
Again adapting a land game into an aquatic pastime, Follow the Leader in a pool involves one leader and as many followers as possible. The leader swims, walks, moves their arms, and any number of things that the followers then have to copy. This is a good way to incorporate the water watcher on duty, as they can act as the judge to see who is properly following and who should be out each round.
Race
Both our pools have lap lanes, so one of the easiest games to play is having a swimming race! Swimmers can race each other (provided they won't run into or disturb other swimmers, of course) or race against the clock. Not only will racing give you more exercise, but it's also a great excuse to learn more than one swimming stroke. Who will hold the most records out of your friends and family? Get to the pool to find out!
Pool Safety at Embrey Mill
Swimming is great exercise, an exciting way to socialize, and a fantastic way to keep cool in the heat of the season. And pool safety at Embrey Mill is very important to the health, well-being, and fun of everyone involved. Make sure it's high on your priority list as you head to the pools.
Oh, and that saying about waiting 30 minutes after eating to swim? Totally a myth. You could get a little crampy on a full stomach, but nothing bad will happen to you. So, get out and enjoy the summer in the pools at Embrey Mill.