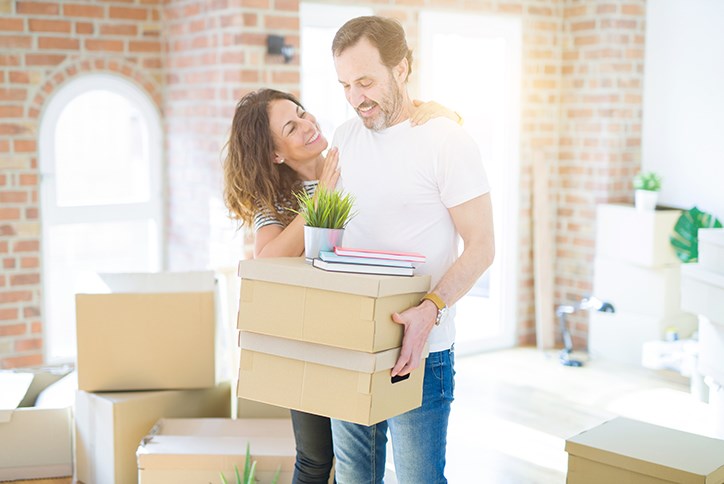 9 Tips for Downsizing for 55+ Active Adults
Downsizing your home is a big decision, just as big as when you chose to purchase your first home.
But, how do you know it's the right time?
And, once you've decided to downsize your home, what's your next step?
We want to help make the whole process a bit easier for you to decide to come home to Cascades at Embrey Mill, our 55+ Active Adult section that sparkles with possibility, opportunity, and fun.
First, we'll look at how to figure out that it's time to downsize and then we'll give you 9 tips on how to make your downsizing adventure easier.
Knowing When It's Time to Downsize
First, let's change our definitions and way of thinking a bit. Downsizing sounds like you're losing or giving up things, space, and comfort. Downsizing sounds sad and negative, and that's the opposite of what you're doing. Downsizing really means finding the right-sized space for your life. It's a happy event that makes sure your home is exactly what you want it to be.
Here are 4 ways you know it's time to downsize:
1. You have extra rooms not being used
This is the biggest clue your home might now be the wrong size for you. Rooms that sit empty or are only used for light storage are great indicators that you have more room in your home than you really need. Now, we don't mean that bedroom you currently use as a home office. That's just a different-than-intended use, but it still means you need space for a home office. We're specifically talking about that room at the end of the hall with the three boxes and broken treadmill that just seems to collect dust. You don't need that room.
2. You tire of lawn maintenance and garden care
A nice green backyard is a beautiful thing, as is a garden full of flowers. But both are very time-consuming and work intensive to maintain properly. When you find yourself desiring the beauty but not looking forward to all the work, that's a good indication you are ready to downsize. At Cascades at Embrey Mill, we make sure you still have all the green spaces you enjoy with our many parks, miles of trails, and community garden, without any effort on your part to maintain any of it. Unless, of course, you wanted to volunteer to help with the community garden!
3. You desire more company
Family and friends stopping by to visit—or even staying over for a few days—is great, but sometimes you just want more. More than just neighbors, you want an entire community of friends. This desire is perfectly met at Cascades at Embrey Mill, two-fold. First, you have the collection of peers in this special 55+ Active Adult section. And then you have the full Embrey Mill community. There's so much going on here and so many wonderful social spots that you'll always be meeting new neighbors and quickly turning them into dear friends.
4. You want more than just a home in a neighborhood
Other than getting the perfect home for how you are currently living, the best part of downsizing can be all the extras you get in the community. We've already mentioned all the parks and trails here at Embrey Mill, but you will also find more to do. There's Cascades Club, the private clubhouse for Cascades residents with a weight room, pickleball courts, and a sundeck with outdoor grills. There's our community pool outside the Embrey House, which has its own fitness center, and another outside the Knight Meeting House. And there's Grounds Bistro & Café, our onsite restaurant with a fresh menu that changes with the seasons.
9 Tips to Help You Downsize
Here are our 9 tips to help you downsize your space.
1. Photograph and diagram your favorite spaces
Your home now has been put together with love and necessity over your time there. Sure, there are parts that don't work anymore (hence your desire to downsize), but there are also spaces that you adore. So, take pictures of them. Draw diagrams of them. Build models of them. Anything that will help you recreate them (and then improve on them!) in your new home. If the teddy bear brings you joy on the couch in your current living room, then it should most definitely be there in your new one!
2. Go room by room
It can be very overwhelming looking at your home as a whole, so it's best to plan your downsizing room by room. You might want to start with the easiest rooms so you can get a lot of them checked off your list first. Or you might want to start with the hardest rooms and leave the easy ones for last. The important part is to do them one at a time, so you can really focus without getting distracted by things in other rooms.
3. Move from functional to emotional
One of the major things that ties us to our old home is all our emotions. From memories to moments, our homes encapsulate our lives. When it comes time to downsize, start with the functional things and rooms. It's much easier to decide what to do with a blender you don't use (give it to a friend) than a blanket crocheted by your grandmother (keep it, gift it to a family member, donate it to a special charity). The idea of this tip is to help you get as much done as easily and quickly as possible, so you have more time to really think about the harder items.
4. Divide stuff into categories: keep, gift, sell, discard
You have lots of things. Some are important, some are memories, and some are things you're not sure why you have in the first place. One of the best things you can do as you downsize is label all your things as keep, gift, sell, or discard. This is what you plan to do with your things when you move. This will help you slim down your possessions while knowing that they are either coming with you, going to someone you care about, making you a little extra money, or just going away. The key to this step is to be definitive in your categorizing: no "maybes."
5. Discard duplicates
And an easy way to start #4 is by discarding duplicates. The easiest place to find duplicates is your kitchen. Do you really need three pasta servers or thirty-eight forks? Getting rid of duplicates will drastically reduce the number of things you need to bring with you. You might find you need all seventeen grey sweatshirts, but most likely, you'll realize you can easily function happily with just two.
6. Digitize your media
One thing we all have a lot of is photographs. Many new ones are in our phones or on our computers, but all the old ones are tangible and often in albums and boxes. Even if you enlist friends or professionals, take the time to digitize all these important visual memories. Same goes for slides and filmstrips, and home movies. Make sure you get them all in a digital format to protect them during the move.
7. Give yourself enough time
Again, this is a big undertaking, so make sure you give yourself enough time. Going through, evaluating, and packing every room and every item will take you more time than you think. So, give yourself that time. Make sure you don't rush anything you might regret later. That said, make sure you're making the most of the time you have.
8. Get help if you need it
Asking for or hiring help during downsizing can make the whole process go smoother. Whether you enlist family and friends to help you with this process or hire professionals, the knowledge that you don't have to go it alone is invaluable. Downsizing involves considering and reconsidering so many different things that sometimes having extra eyes and hands are just the things needed to make sure everything goes smoothly.
9. Get used to your new community before you move in
Don't wait until you're all moved in to make Embrey Mill your new home: Visit early and visit often. Have some meals at Grounds Bistro & Café, explore our many trails, and turn your future neighbors into new friends before you live right next door or down the street. Find your favorite places so when you do move it, you're already at home in Cascades and Embrey Mill.
Downsizing to Cascades at Embrey Mill
Remember, downsizing your home is not giving up anything. It's about making sure your space is the right size for you. With a carefree, low-maintenance lifestyle and abundant amenities, our exclusive 55+ Active Adult section blossoms—and so will you when you call Cascades home.
You'll love how much your new home fits you like a glove and how quickly neighbors turn into friends, and your community becomes like family. That's what makes living at Embrey Mill so special. Discover more about our 55+ Active Adult homes today!