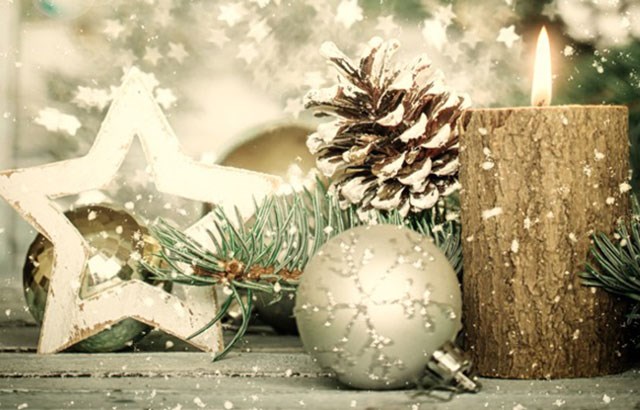 The Best of 2015 Holiday Home Trends
With the holiday season right at your doorstep, you may have already started to put up decorations or pick out the perfect Christmas tree. If you are still working on decorating your new Embrey Mill home and want to try something new, we have rounded up 2015's hottest holiday home trends!
Natural & Neutral – The idea of a nature-inspired scheme means bringing the outdoors in! Aside from the traditional Christmas tree and wreath, utilize other resources such as birch sticks, pinecones, or animal motifs. Neutral colors like natural wood tones and shades of white play a large part in this trend. Explore the trails and open spaces of Embrey Mill to collect treasures from nature!
            Expert Tip: Most holiday decor that you already own can be transformed into this trend by using spray paint or burlap.
Mixing Metals – Gone are the days of choosing either silver or gold for your holiday décor. Today, mixing metals is a cool trend that many are following to create a variety of shiny decorations. Additionally, champagne is the newest trending metal color this season!
            Expert Tip: To really tie this trend together, mix solid metals with patterned & multicolored metal items.
Personalized – When we say personalized decorations are in trend, we don't just mean something with your name on it. Newer trends in personalized holiday décor can encompass a variety things including personal interests, hometown pride, favorite sports teams, interesting hobbies, or even existing colors and styles in your home.
            Expert Tip: Decorate with personalized items for each member of the family in addition to your family as a whole.