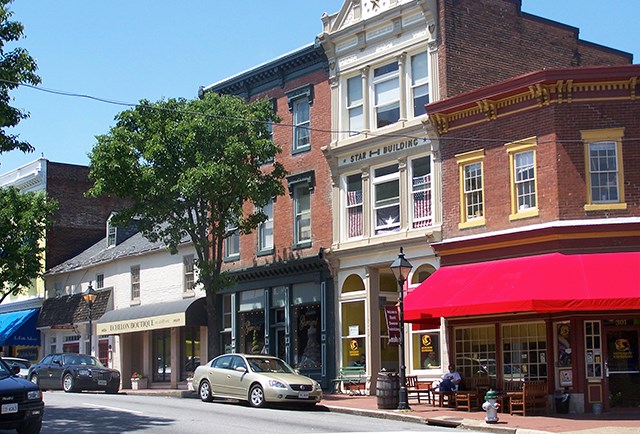 Exploring Charming Fredericksburg
Half an hour away from Embrey Mill you'll find small-town charm and big-city spirit in Fredericksburg, VA. Whether you're a foodie, budding historian, or shopping enthusiast, there's something to love in this classic town. Here's a quick run-down of top picks.
Dine
Big city swagger meets small-town charm to create an array of dining experiences in Fredericksburg. You can find everything from Italian classics to new, eclectic Southern delights. There are many excellent choices in Fredericksburg but here are some of our favorite restaurants.
Foode
Founded by two foodies from Atlanta, Foode sources organic, locally grown ingredients to produce delicious Southern fare. The menu changes every week based on what foods regional farmers and suppliers have available.
Brock's Riverside Grill
Like the name says, Brock's Grill is a local favorite located right along the river's edge. With options from portabella burgers to filet mignon and fresh seafood, Brock's menu is as delightful as its view. Be sure to try one of their many raved-about delectable desserts when you stop by for a sunset dinner.
Bistro Bethem
The work of local artists enhances the ambiance of this cozy bistro café. The menu is just as delightful, featuring French cooking techniques applied to seasonal American cuisine. Their brunch is a destination-worthy experience on its own and Bistro change its menu daily, often boasting some of the freshest seafood available in Fredericksburg. With a private basement for special events, Bistro is a go-to spot for special occasions and celebrations.
Shop
Just as the town itself is an eclectic mix of the cosmopolitan and quaint, shopping in Fredericksburg offers a charming mix of swipe-worthy finds.
Beck's Antiques & Books
Conveniently located near the Visitor Center, Beck's Antiques & Books is a must for anyone with an interest in history or antiquing. Items collected by Beck's include everything from silver teapots from the 1700s to first edition classic novels. This store is sort of a museum in of itself.
Downtown Fredericksburg
Sometimes called Old Town, this area is concentrated in and around Caroline Street and is the heart of Fredericksburg. Once you've checked out some of the highlights like the historic apothecary or carriage tours, meander from boutiques to antiques, galleries to studios, and end it all with a meal at one of the many local cafes.
Cultural Stops
George Washington's Boyhood Home
Visit the Ferry Farm to see where the father of our nation grew up. Start at the Visitor Center, which features a collection of colonial and Civil War artifacts that were originally found on the property. Before exploring the Farm, check out the archaeology lab – here you can see the team working as they conduct research on the various artifacts they've found during their ongoing digs on the grounds. After seeing the lab, you can rent an iPad (free of charge) from the Visitor Center and let it guide you on an interactive tour as you explore the grounds. They also offer several various summer workshops for children that teach them about archaeology.
Fredericksburg/Spotsylvania National Military Park
Trace Civil War history at four battlefields: Fredericksburg, Chancellorsville, The Wilderness, and Spotsylvania Court House. At two of these locations, Fredericksburg and Chancellorsville, you can find visitors centers that interpret the battles with presentations and museum exhibits. Fredericksburg Area Museum & Cultural Center Housed in what was once the city's town hall, built in 1816, this museum is the must-stop for a historical overview of the region. The museum starts with the various Native tribes that lived in Virginia and spans the Colonial period, the Revolutionary and Civil Wars, and WWI and WWII.
These suggestions only scratch the surface of the experiences available in Fredericksburg. Whether you have an afternoon or a weekend, you're sure to find plenty to do when you take the half hour drive from Embrey Mill to this historic town.